65th REUNION 1958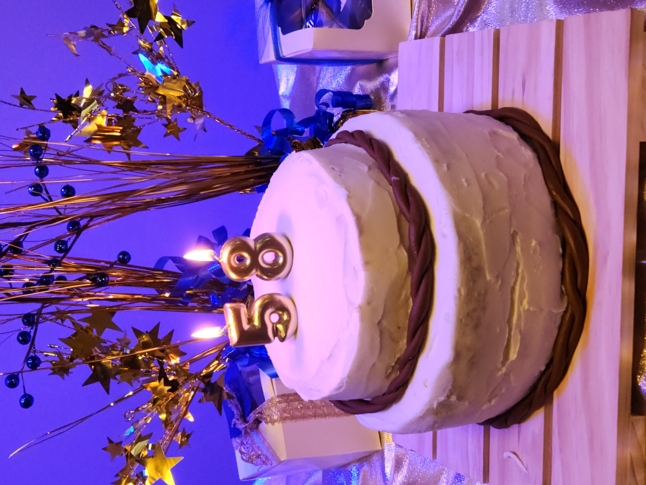 PICTURES FROM THE 65th REUNION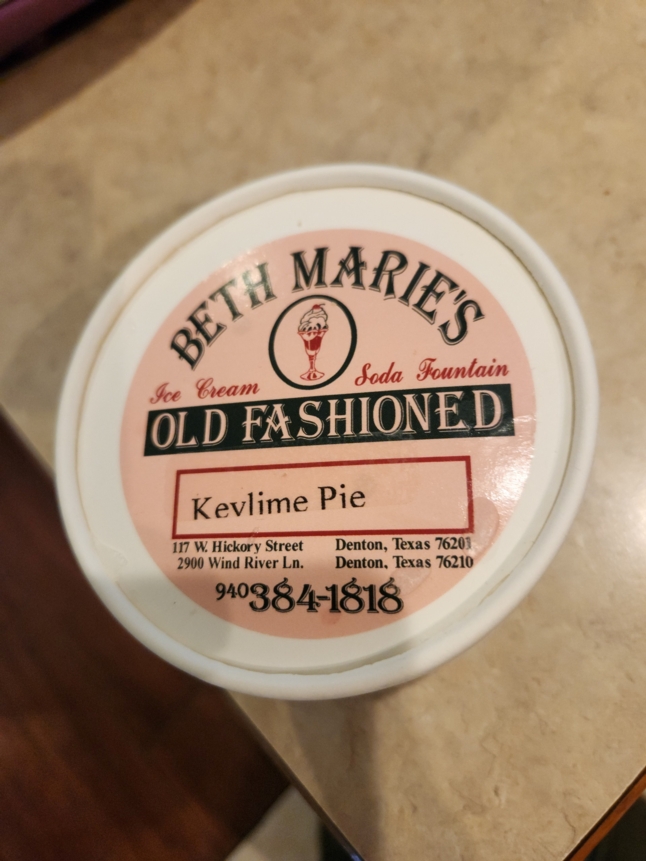 SPECIAL TREAT FOR THURSDAY NIGHT GATHERING
MADE BY OUR VERY OWN 1958 CLASS MEMBER
BOB MOSES
AT HIS ICE CREAM PLANT ONLY SOLD IN
TEXAS
THURSDAY NIGHT PARTY PICS: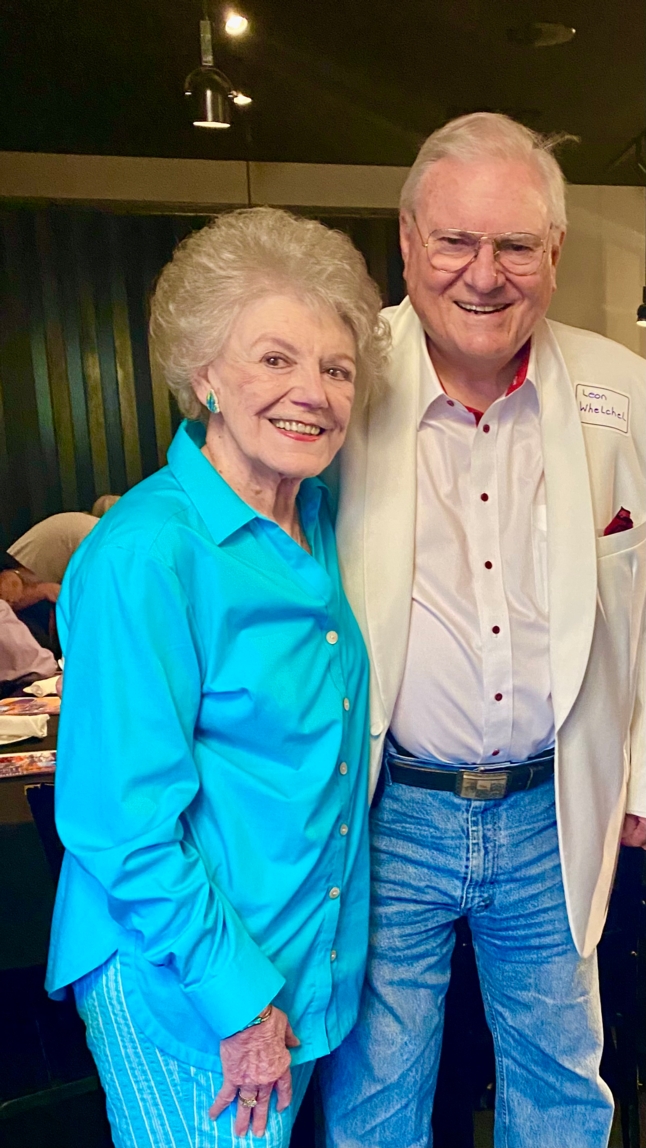 GORDON HEILIGER AND LEON WHELCHEL (CHECK OUT HIS WHITE SPORTS COAT!!!! )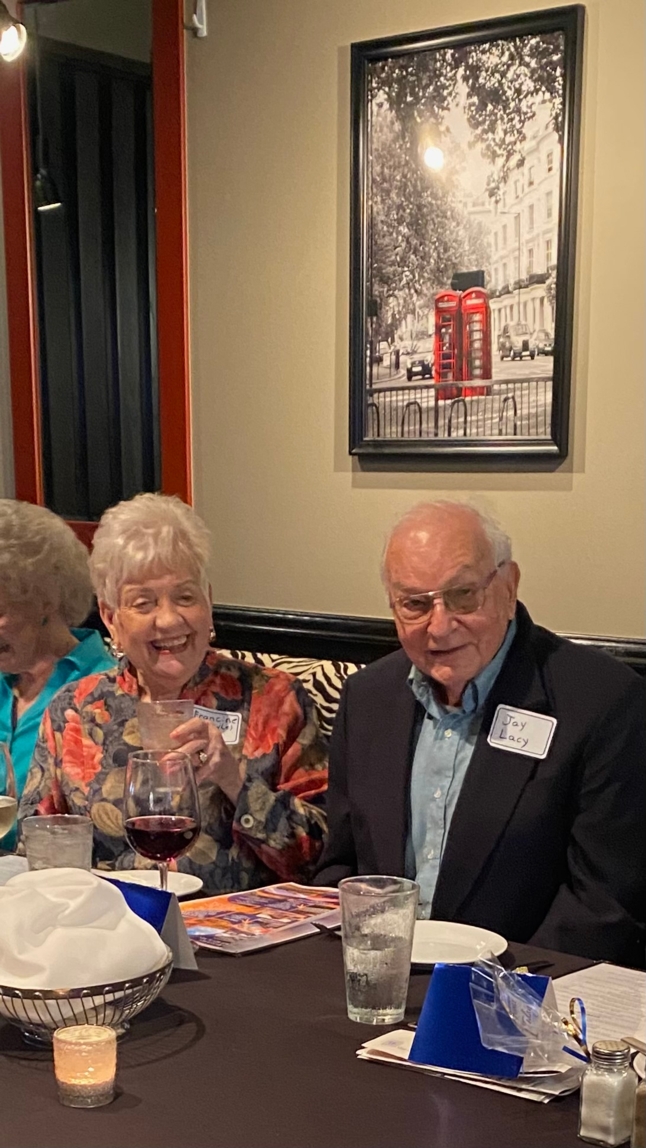 Cheers to you, Francine Sowle Lacy and Jay Lacy!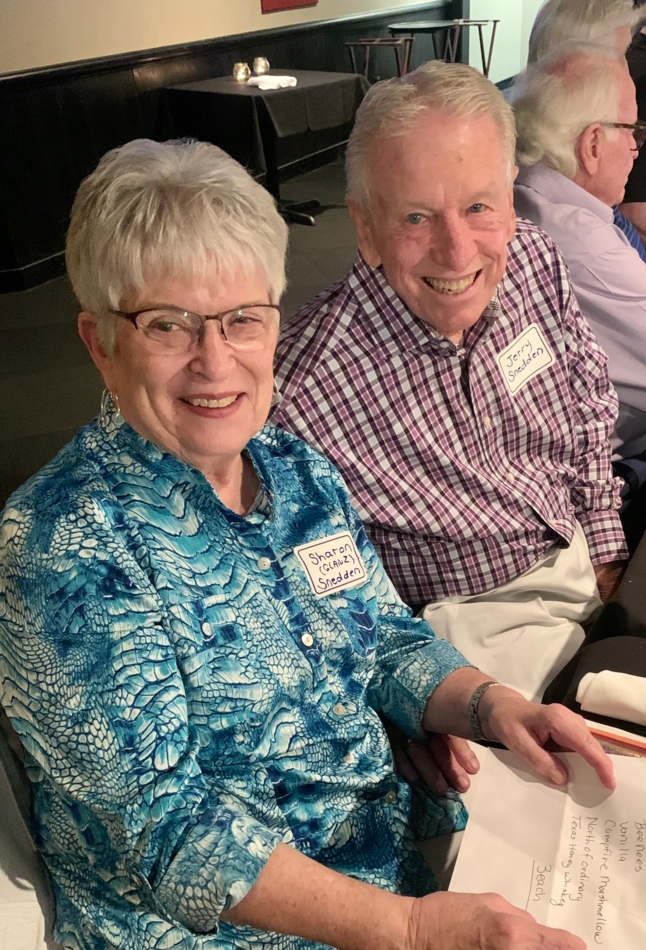 Sharon Glanz and Jerry Snedden were there enjoying the special ice cream dessert furnished by Bobby Moses! (Sharon, I enjoyed "Bees Knees"..smile. dog. )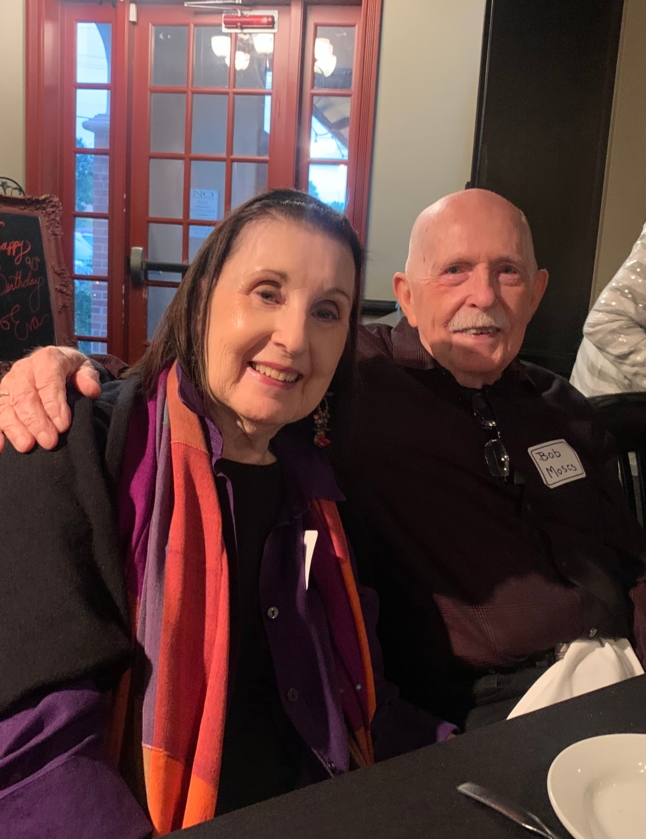 There he is......"The Ice Cream Guy from Texas with his lovely wife, Joanne!!!! They always add so much fun to our Reunions. (Thank you, again, Bobby!!!!! dg
Bob and Connie Clements Rinner were with us. She always adds so much joy to our occasions. She even gave one of the toasts!!!! (smile)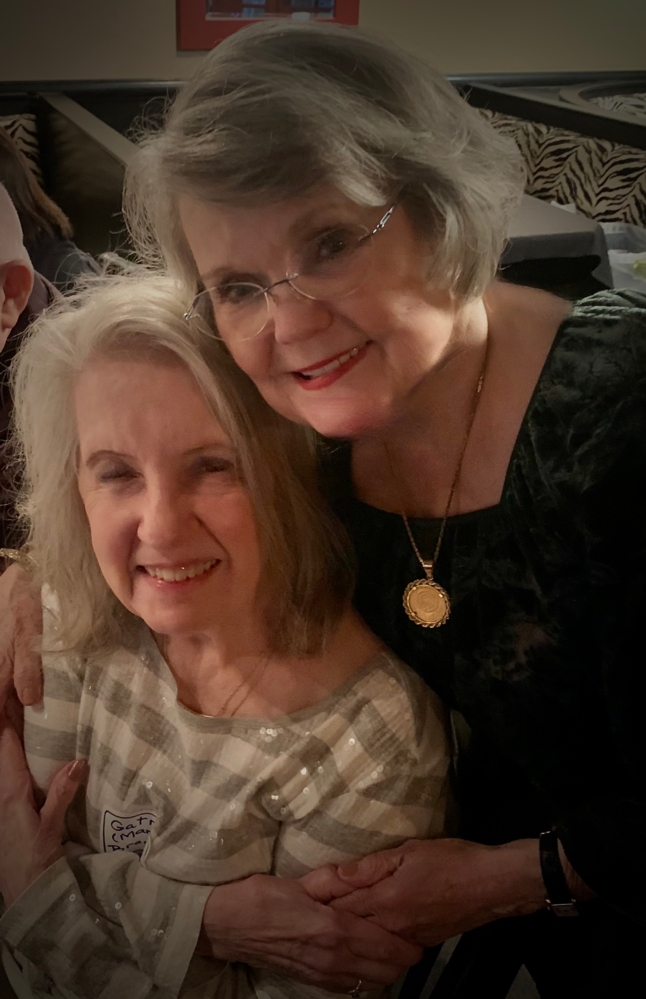 Ohhhhh...Gatra Marvin Bradshaw and Donna became decorating buddies!!! She planned all of the Saturday night Table Decorations plus saw that all of the place cards were there for each person to find ...Thank you, Gatra!!!!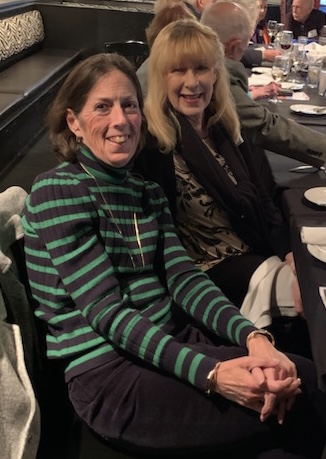 Here is one of our very favorite "Daughters of the Class of l958!"...Dawn Duca, daughter extraordinaire of Gordona. She had the pleasure of sitting with Carole Kay Hailey ......wife of Jerry Hailey
who came all the way from New Mexico to join us.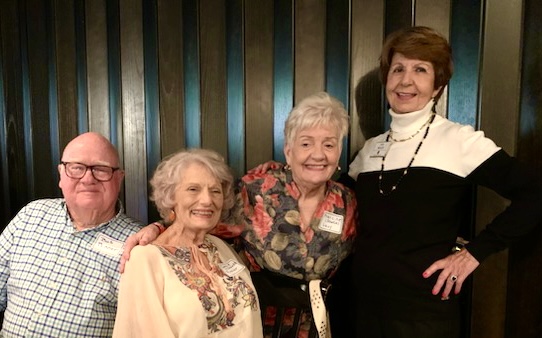 Well, now...these folks are having fun...and do you know what? Eva Welch instigated many of the photos that were taken Thursday evening..and may we say..."Thank you, Ms. Eva!...You were very important to record the fun that evening!" (and even for Friday Night and Saturday Night!!) Soooo happy that you came.
(Bob Rinner, Connie Clements Rinner, Happy Francine and Ms. Eva)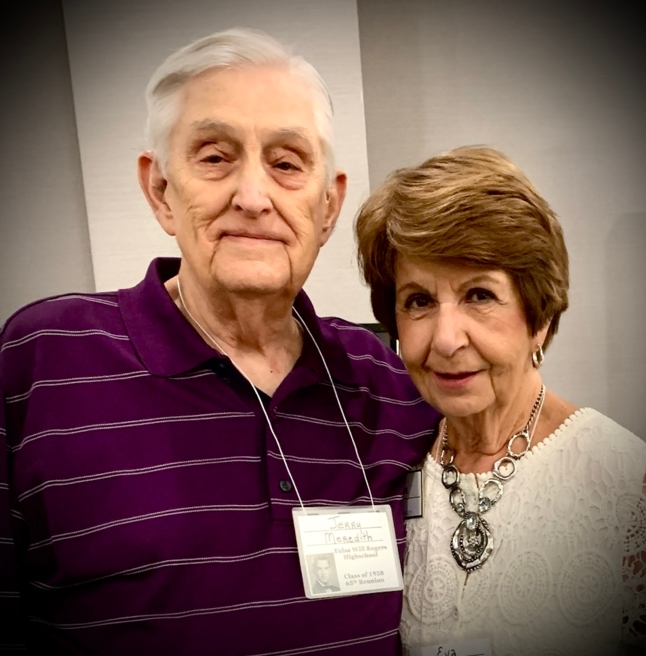 Eva with my very favorite friend, Jerry Meredith! Was so happy that he could come from Dallas. Both people are showing us great strength in their life events now and we are very proud of them.dlg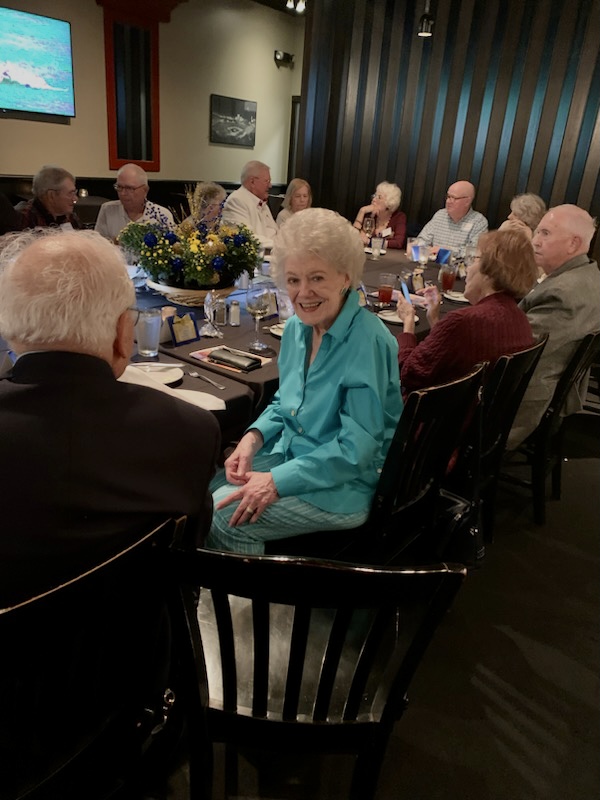 Gordona is shown enjoying conversation at the table Thursday night. There were 27 who were present and it was such an upbeat evening. Was a successful time for all!!!!! (I salute each of you...dlg)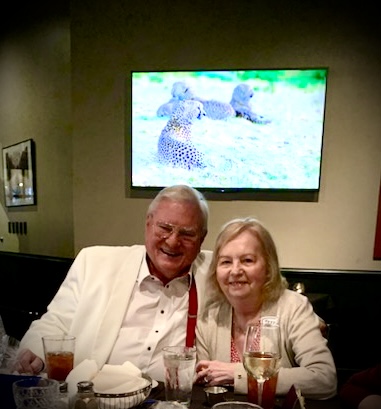 Now....this is a guy that stole my heart that evening!!! Why? He wore the "White sports coat" that was worn by so many guys at the last reunion. Thank you for your enthusiasm, Leon Whelchel....loved it! He sat next to Jerri Grimes Thursday evening...she flew in from Houston. Thank you both for joining all of us.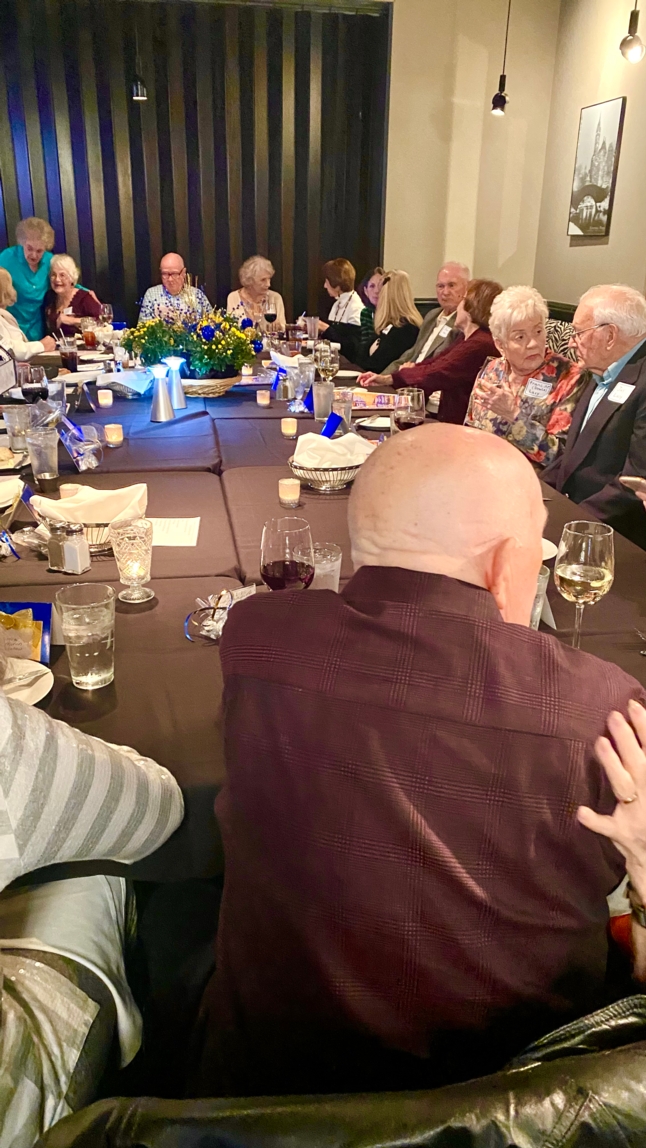 The table at the "Bistro" was filled with 27 of us.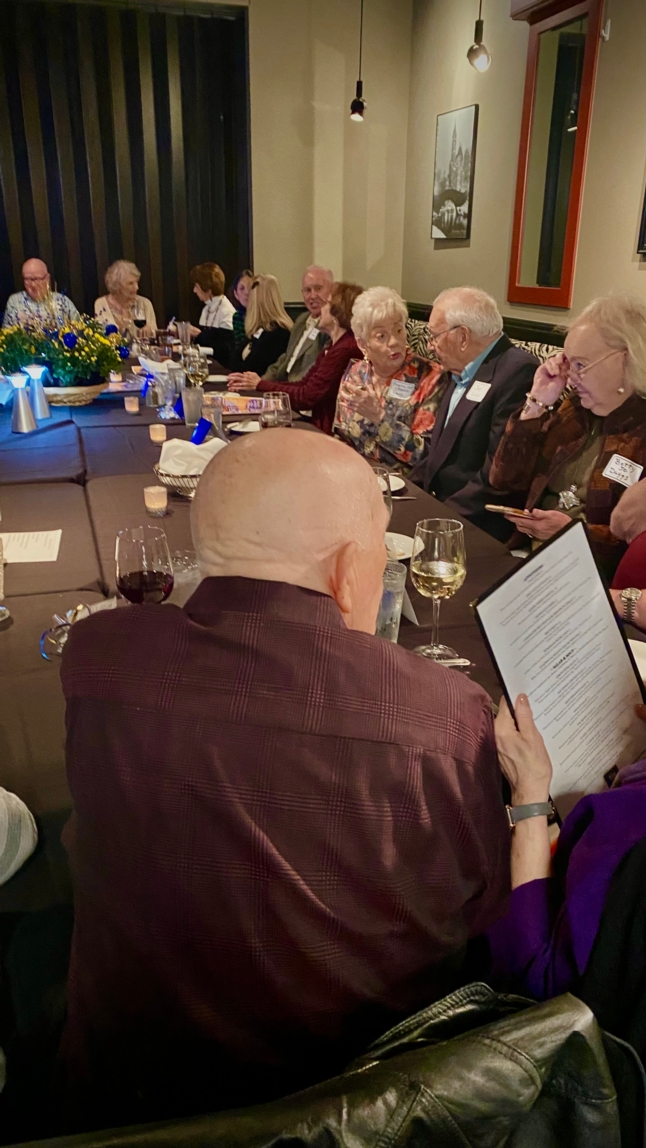 Keep looking......smile. Check out our Classmates.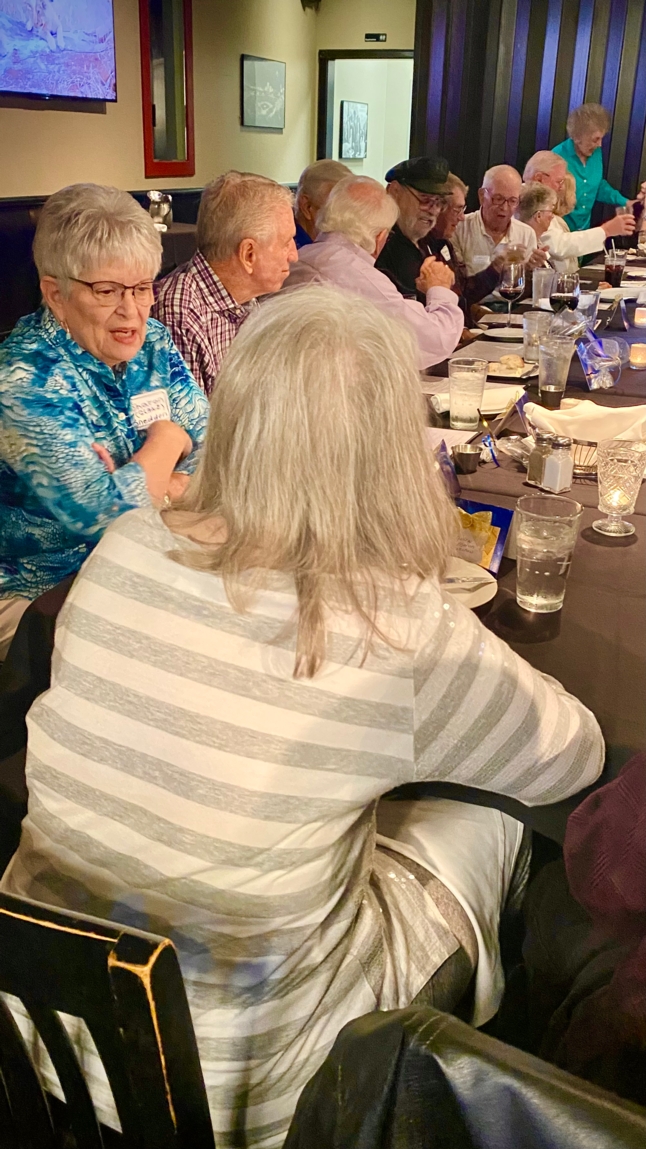 Lots of conversation was ringing through the room on Thursday night. A joy to hear and a joy to see!!!!!!!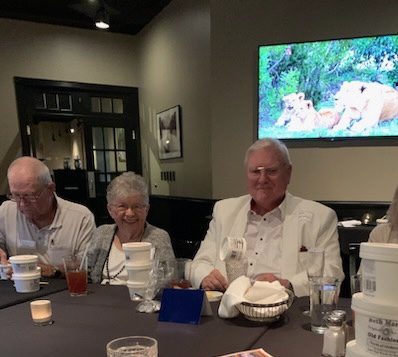 Wanda Potts had a great smile for us sitting between Leon Whelchel and hubby, Bobbie Jon. (What was Bobbie Jon doing...?? Certainly engrossed in numbers of some kind.)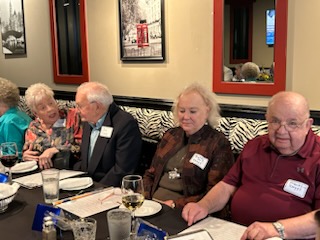 Franklin and Betty Jo Daggs...Francene and Jay Lacy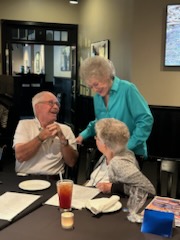 Gordona laughing with Bobbie Potts and Wanda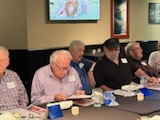 Dion Gantt checking out the menu
at the Bistro.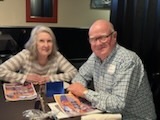 Gatra Marvin Bradshaw and Bob Rinner visiting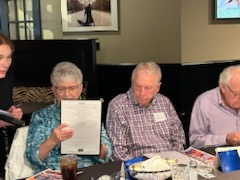 Sharon Glanz Snedden and Jerry
Okay, friends. Dion and I were at the Thursday night dinner for the Out-of-towners...and truly had a great time. But, had to get up at 4:00 a.m. to go to the airport to fly to St. Louis. Yes, our Grandson became engaged and the parties were on the 13th and 14th ......so Granny and Pops were very much needed to be there. But. am so happy about the success of the Reunion. Kudos to all the Committee and to all that came. Your classmate, Donna Polite Gantt (Queenie) smile. (Bobbie Jon's name for me)...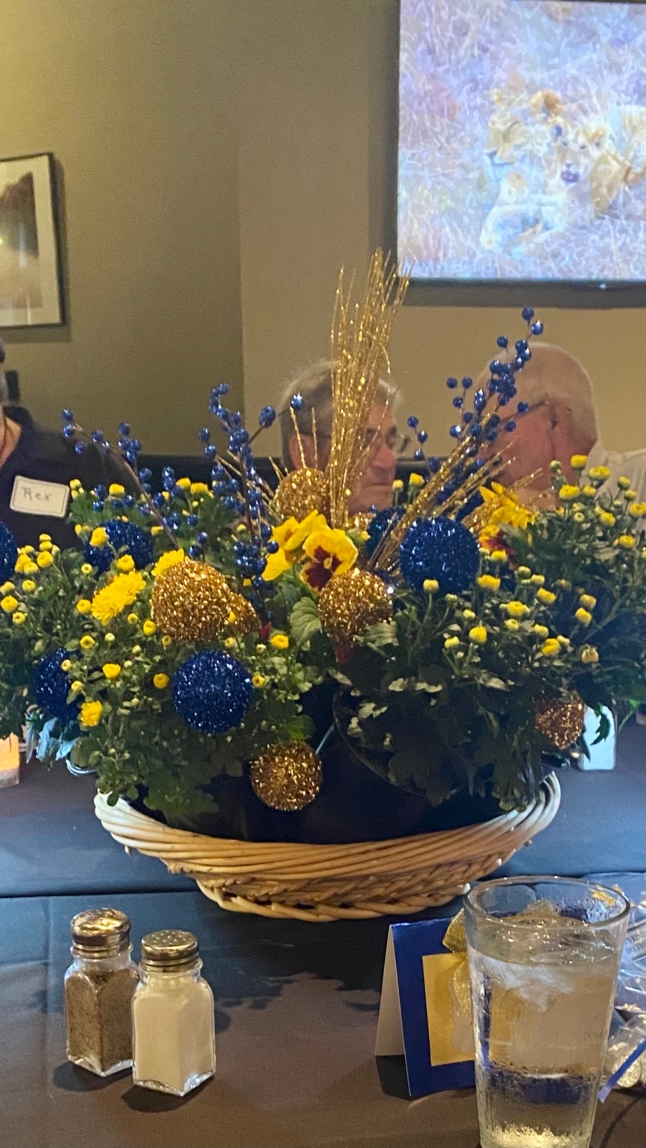 If flowers could talk? They would be telling us about the conversation between Ronnie Mac and Bobbie Jon ! It was a fun evening with people happy to be together!!!
Now on to the FRIDAY PICS!!!!! STAY TUNED! DLG
FRIDAY PICS AND MORE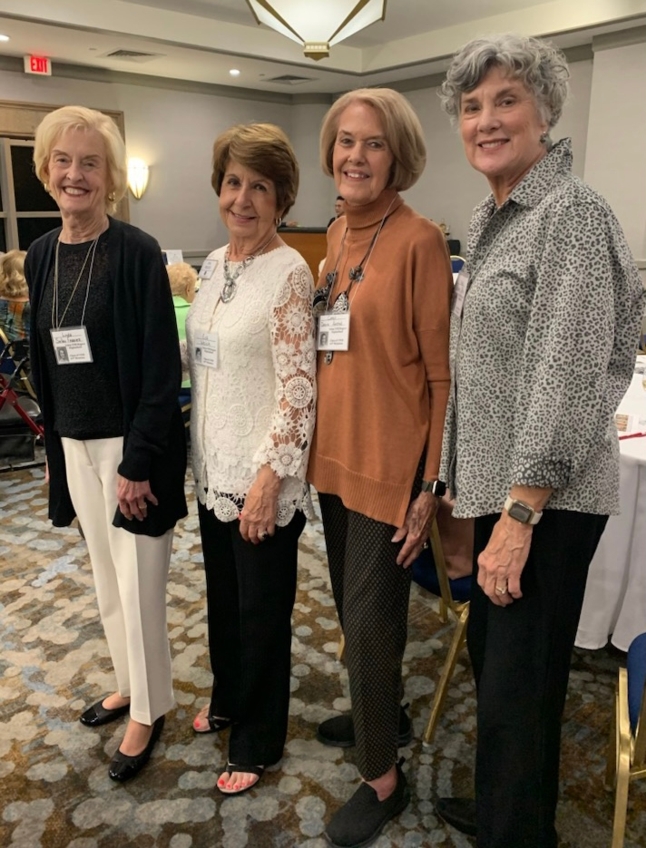 Sooo happy to be together: Linda Sellen Frazier, Eva Welch, Carol Davis Aastad, Nancy Wilson Allen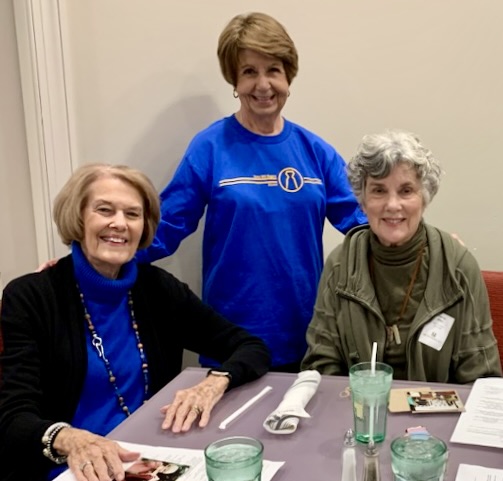 MORNING GREETINGS..OR AFTERNOON? Carol Davis Aastad (came all of the way from: Willow Street, Pennsylvania !) , and of course our Eva Welch who thankfully has taken sooooo many pics for us plus lovely Nancy Wilson Allen.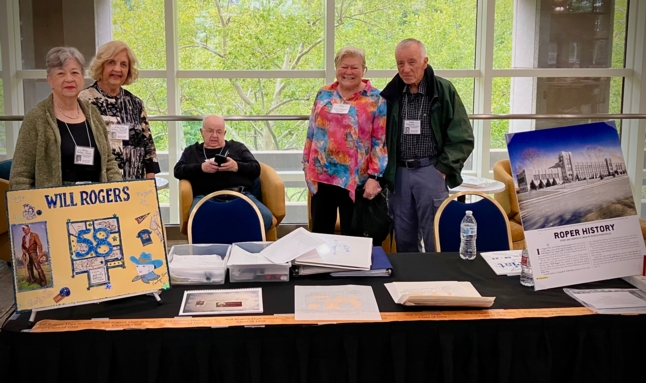 GOOD MORNING, LET THE REUNION OFFICIALLY BEGIN!
(And it did!)

Nancy Nuckolls Moore was already set up to register each of you to check in at 8:00 a.m. Ellen Dee Waltrip Rackleff and Steve & Nancy Ferguson and were in line! And....? (Now, Franklin!, was sitting down on the job! What's the deal, Bud? smile)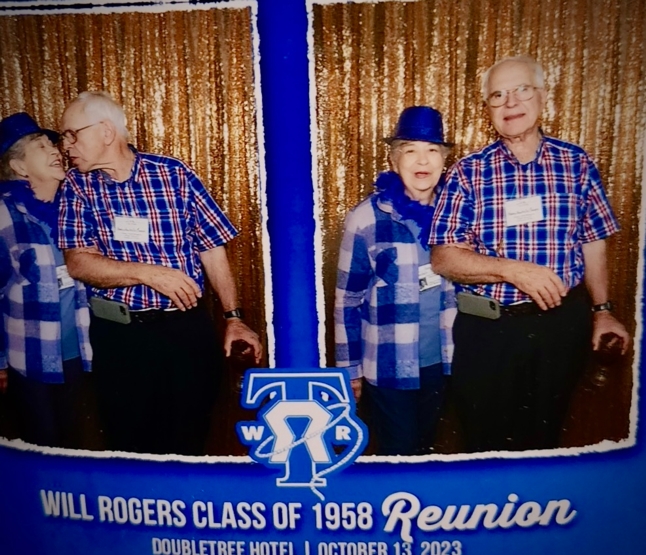 PHOTO BOOTH ANYONE? (NANCY AND JOE Did! What fun too!)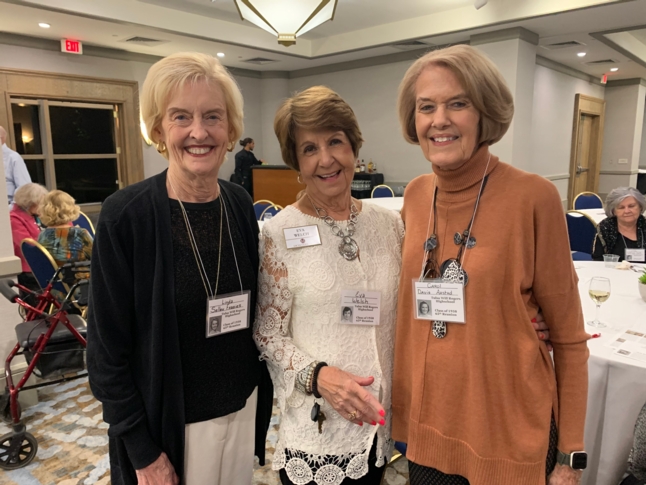 Linda Sellen Frazier, one of our prestigious Hall of Famers was happy to be with Eva Welch and Carol Davis Aastad.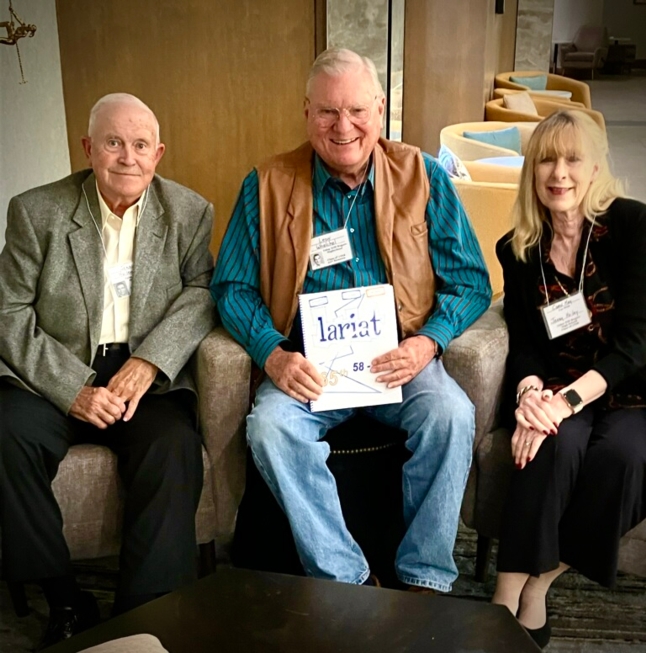 Well, we know one guy who purchased his new "Lariat" updated Yearbook. Leon Whelchel flew all of the way from Vinton, Iowa, to pick it up and is sharing it with Jerry Hailey and his wife, Carol Kay, all of the way from New Mexico!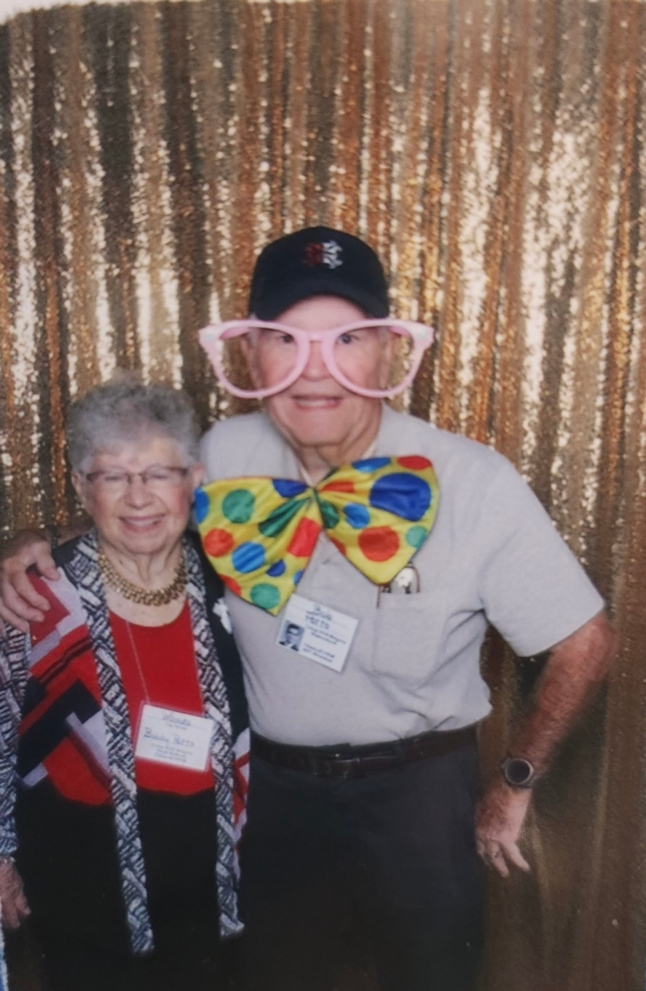 Uhhhhh, well, Bobbie Jon, pink is really your color! And the bow tie? Well, wear it to the next Dr. Visit and he might be questioning your health status at that point! LOL. You look wonderful with Wanda and it looks like you are having the time of your life!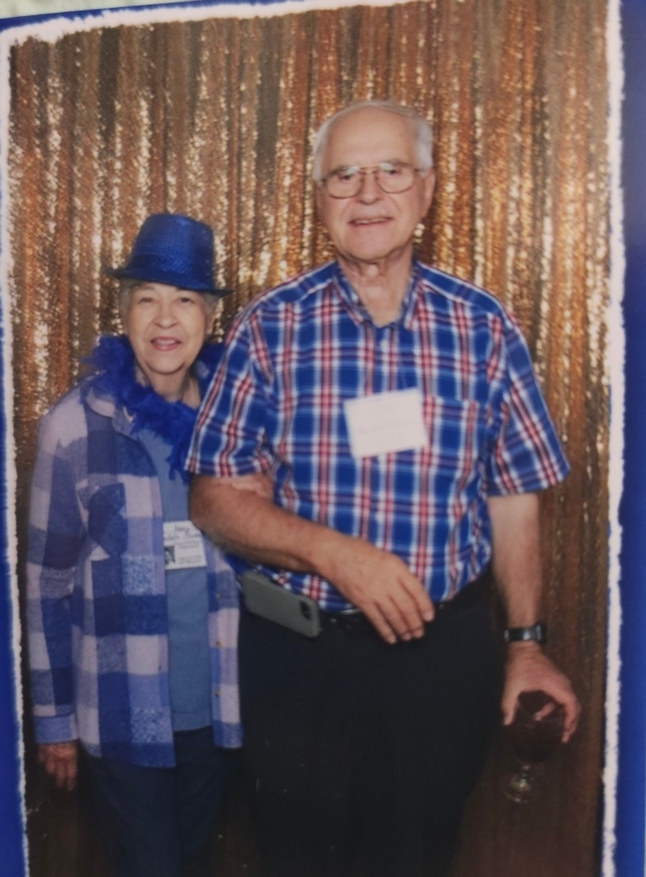 Ahhhhh, looking good, Nancy and Joe ..dressed in blue!

THE MYSTERY COUPLE...WHO ART THOU? SMILE. ANY GUESSES, PLEASE?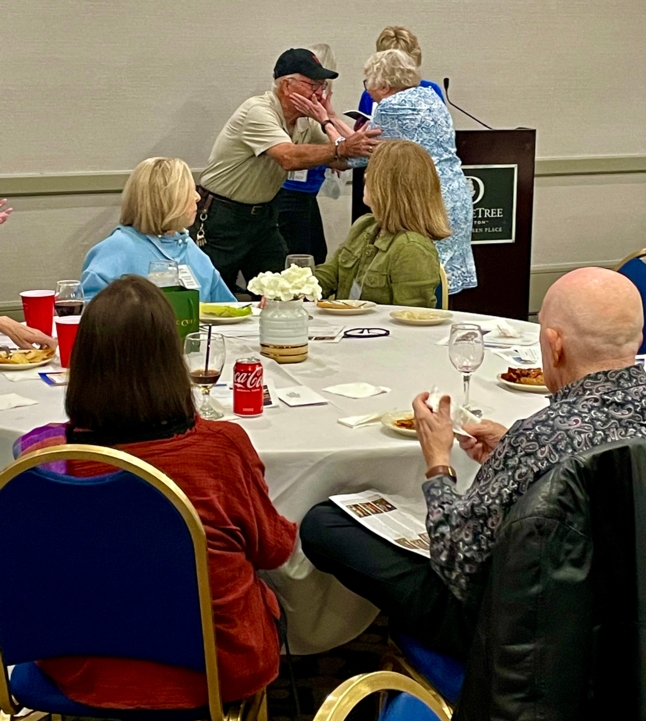 Bob Potts is greeting Ellen Wagner Stott while Gordona and Barbara Stairs Potter watch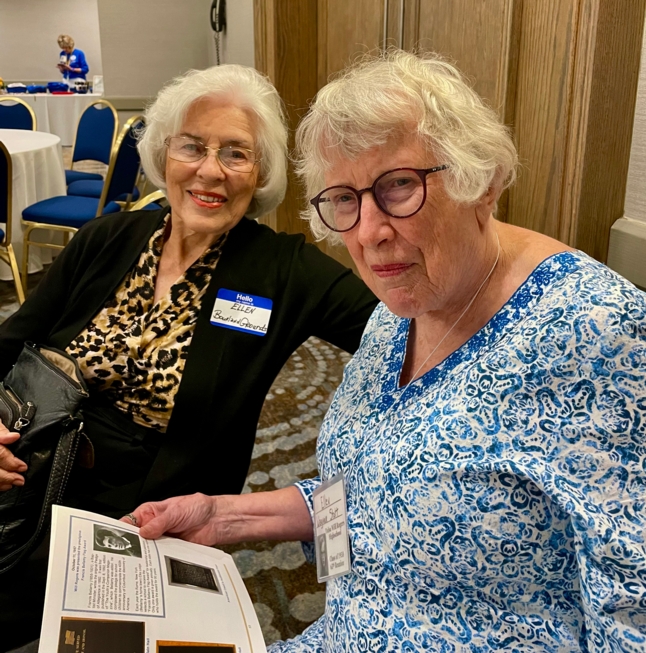 Ellen Bourland Grounds and Ellen Wagner Stott enjoying old memories.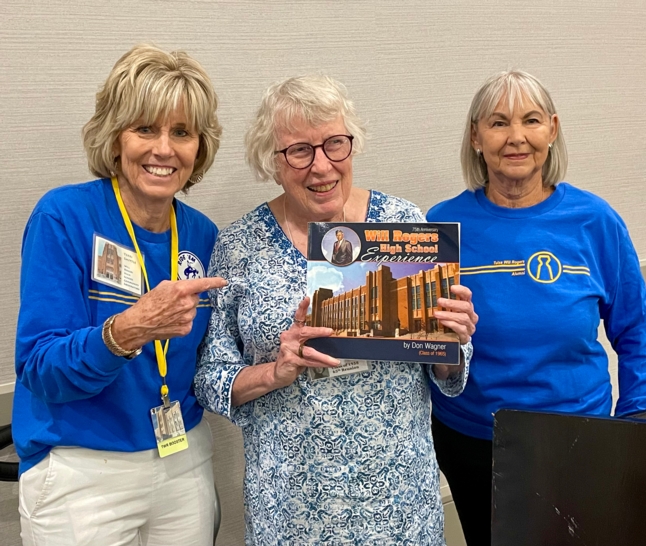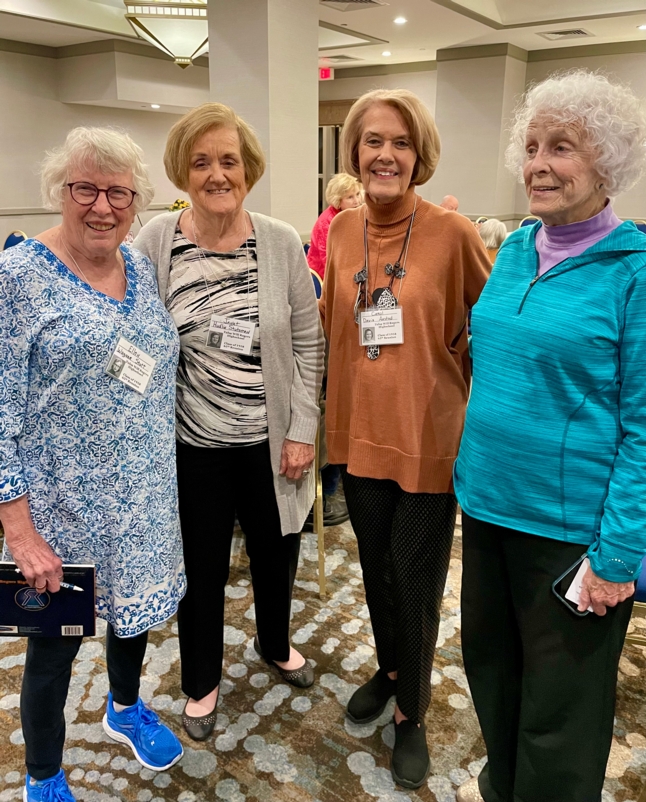 Ellen Wagner, Janet Hudlin, Carol Davis and Claudette Reid having a great time.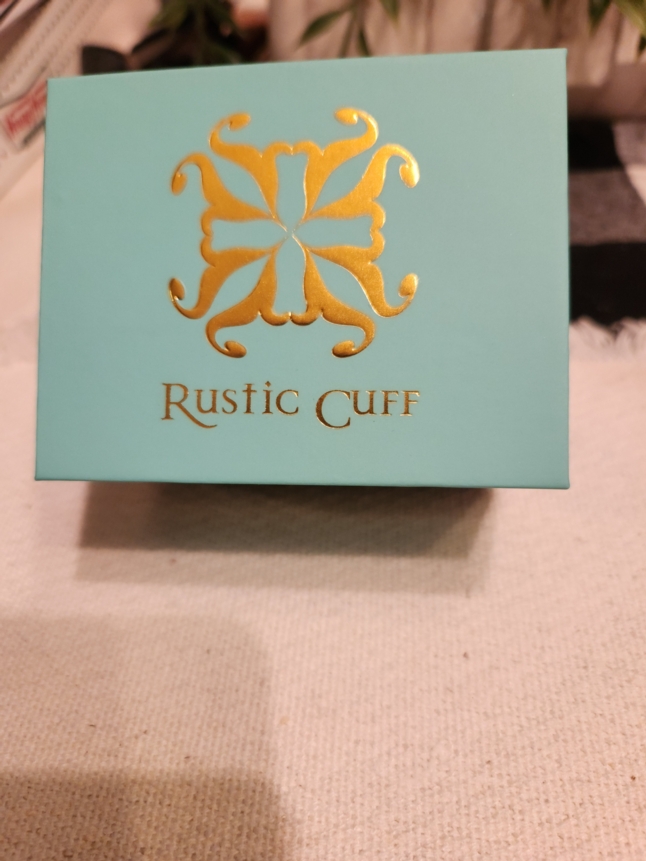 A special "Rustic Cuff" Design just for Nancy!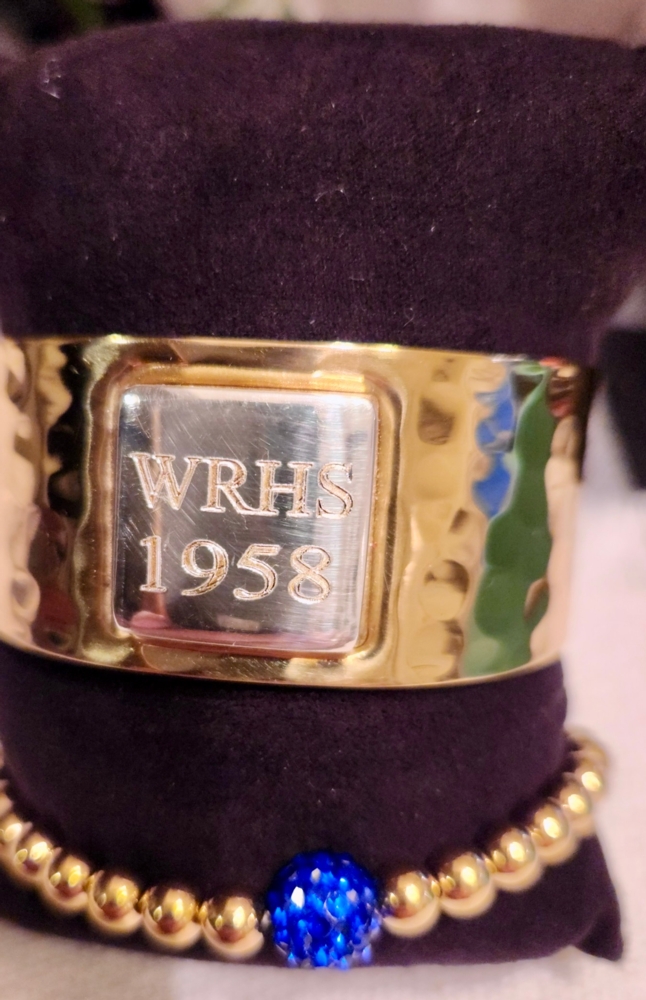 Yes...is very SPECIAL FOR A VERY SPECIAL CLASSMATE....Nancy Nuckolls Moore.
Thank you, Nancy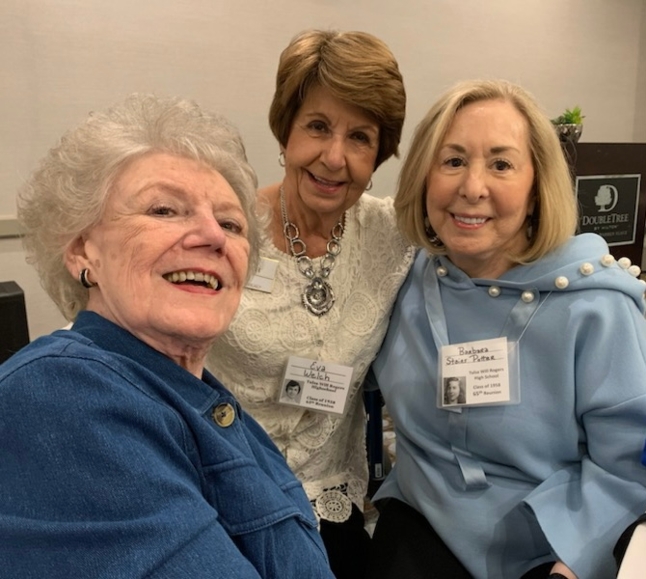 Gordona Moore Heiliger and Eva Welch are giving a great welcome to Barbara Staires Potter who came all the way from Houston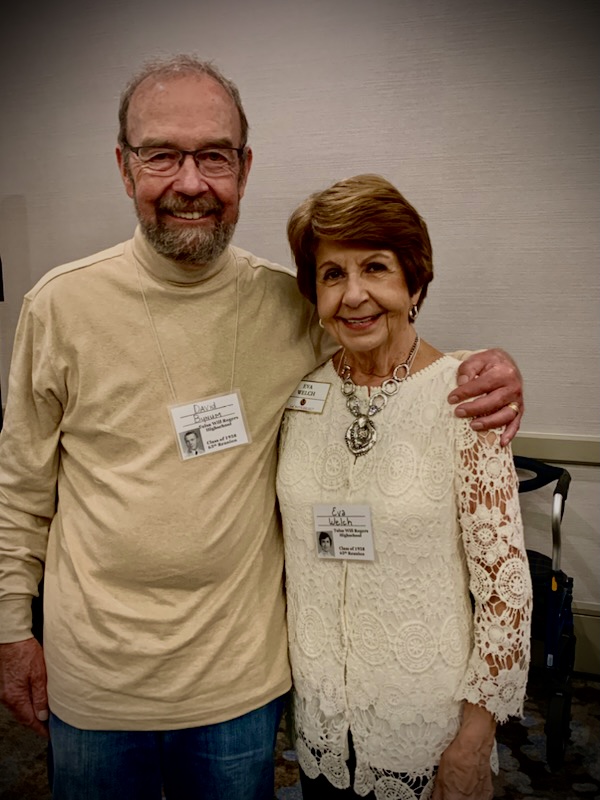 Here he is ....David Bynum, another one of our HALL OF FAMERS! Proud of you David, and so is Eva Welch. smile (He came alllll the way from NEW YORK! )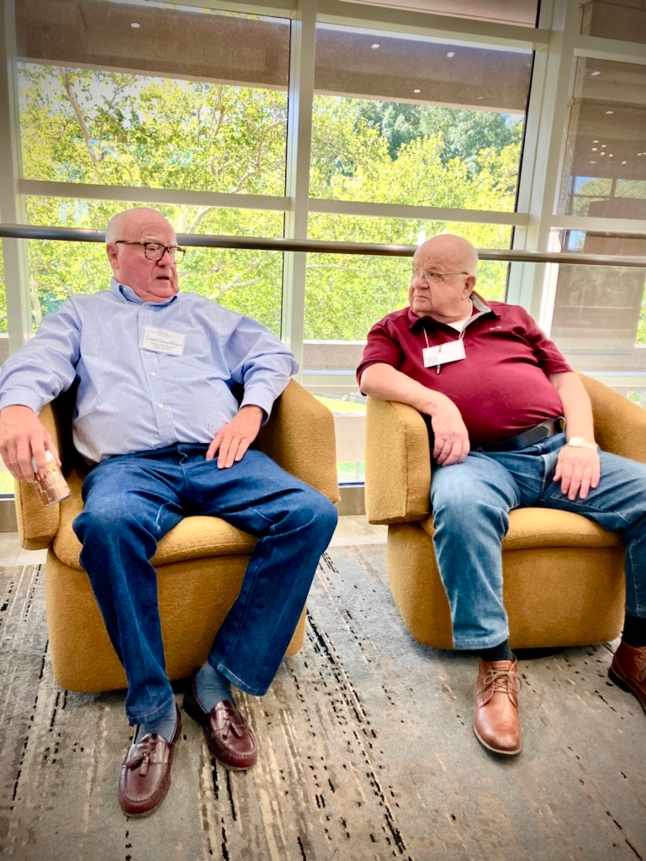 Two Dudes (Bob Rinner and Franklin ) solving our World's problems! smile. (Franklin, you still sittin' in that chair!) smile.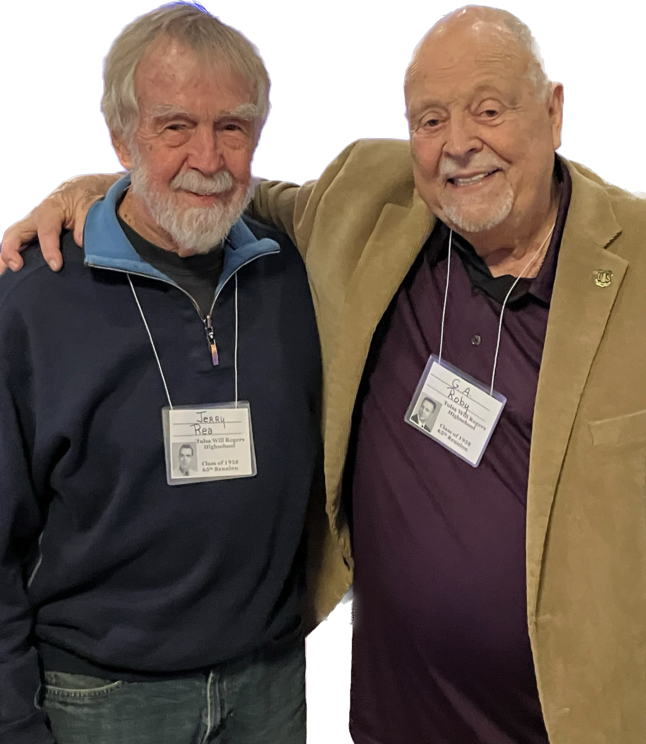 65 years later....2 buddies meet again. Jerry Rea (LEFT) and G.A Roby who came all of the way from California!

Saturday Morning Activity
BUS TOUR OF TULSA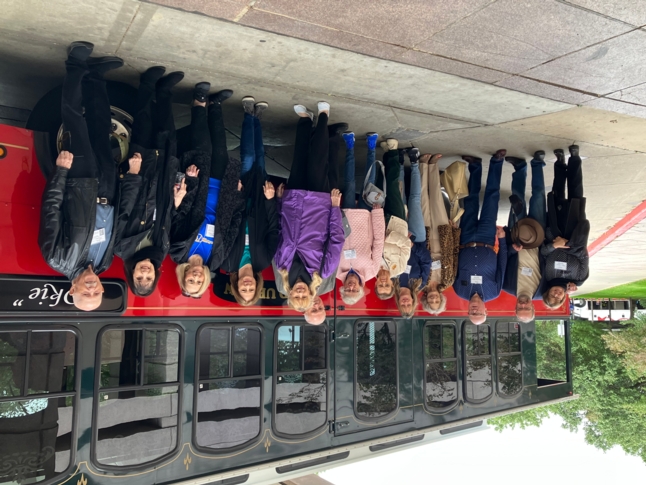 The wheels on this bus went round and round covering so many places in Tulsa Town.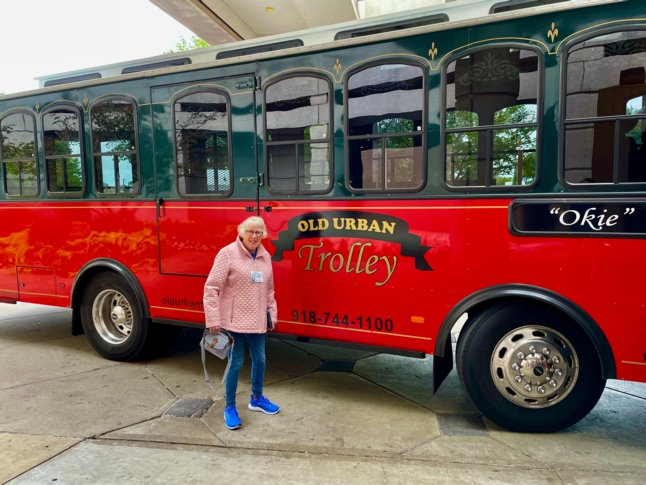 Ellen Wagner Stotts loved showing her her daughter all of the new changes in our fair City. In fact, she took most of the following pictures on the "Old Urban Trolley" Busride.
(Thank you)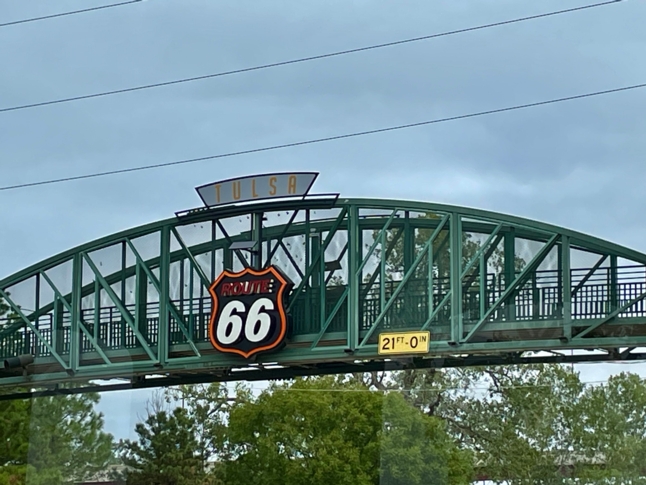 There she is ....."Old 66"....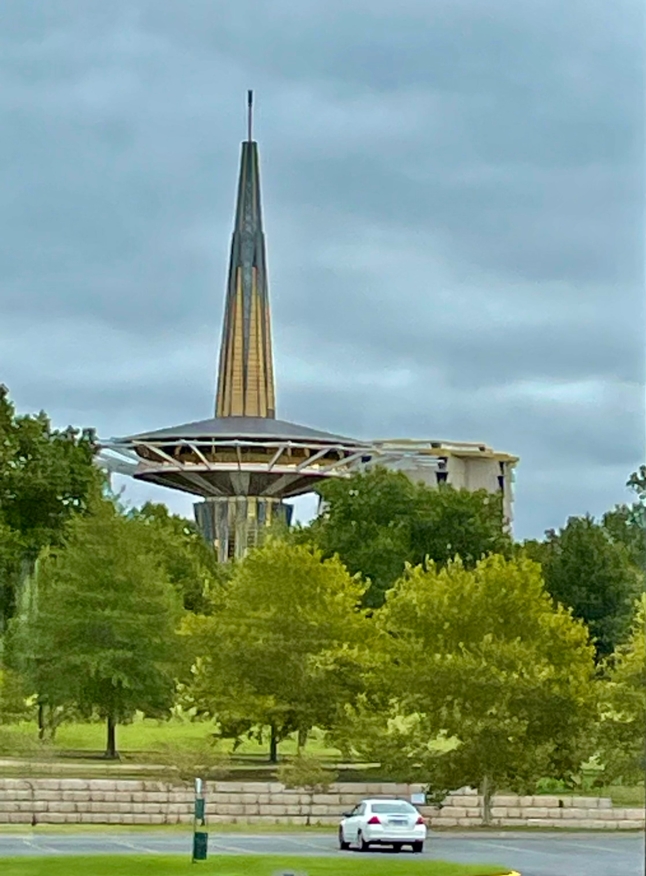 Oral Roberts University ....still growing and be certain to follow the Basketball team this 2023/24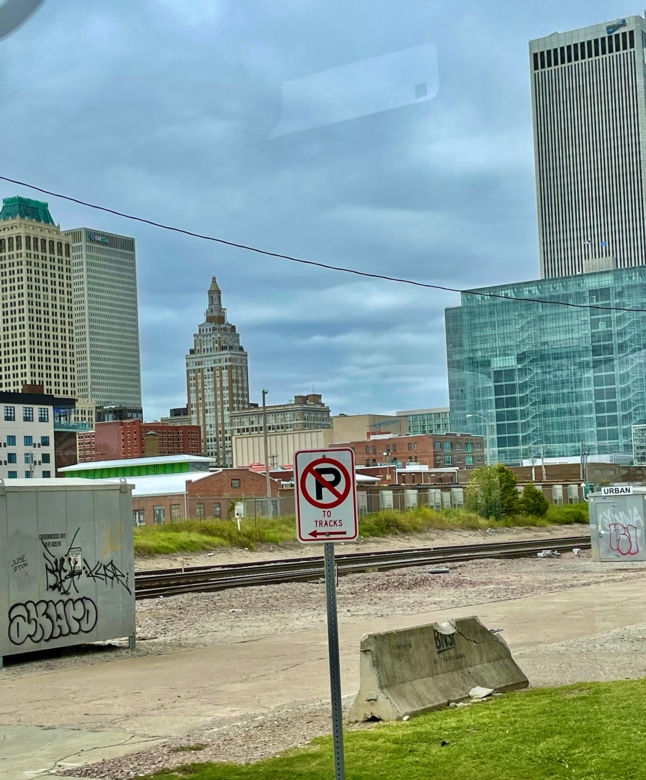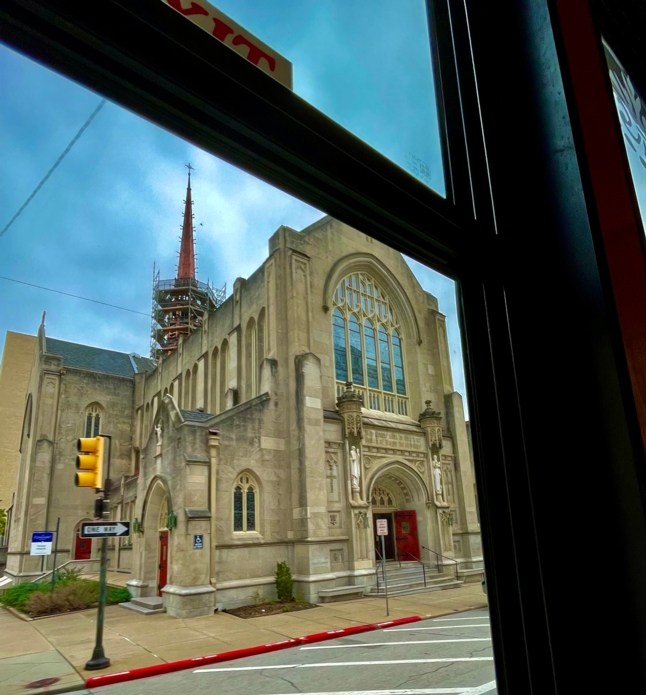 Tulsa has such beautiful old Churches downtown.....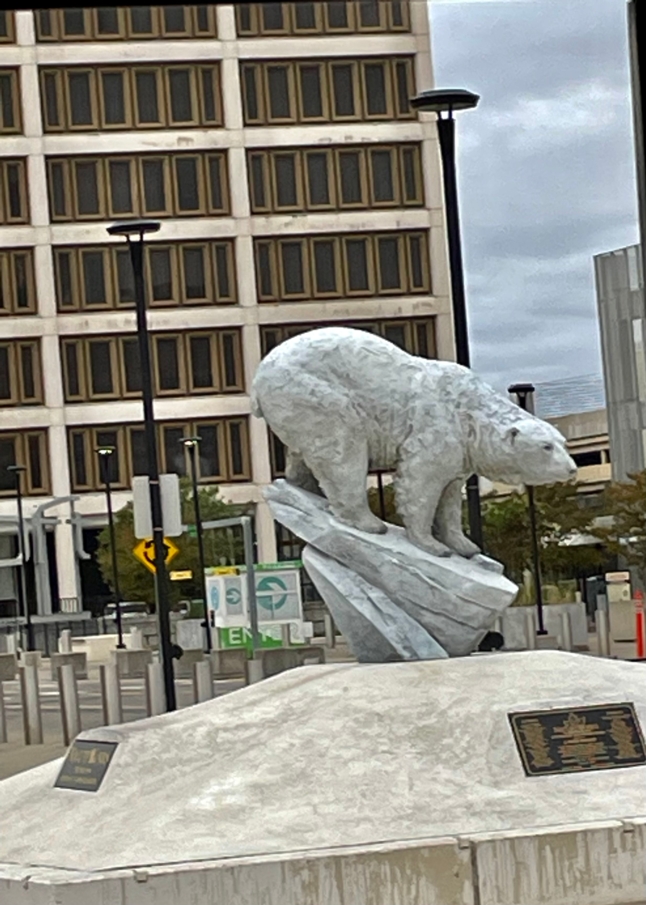 "Nature Works" of Tulsa raises money to place life-sized sculptures throughout the city. They are all outstanding and give a reminder to respect Nature and such beauty to our parks and green spaces.
(Our Pete Messler was one of the original founders of Nature Works also!)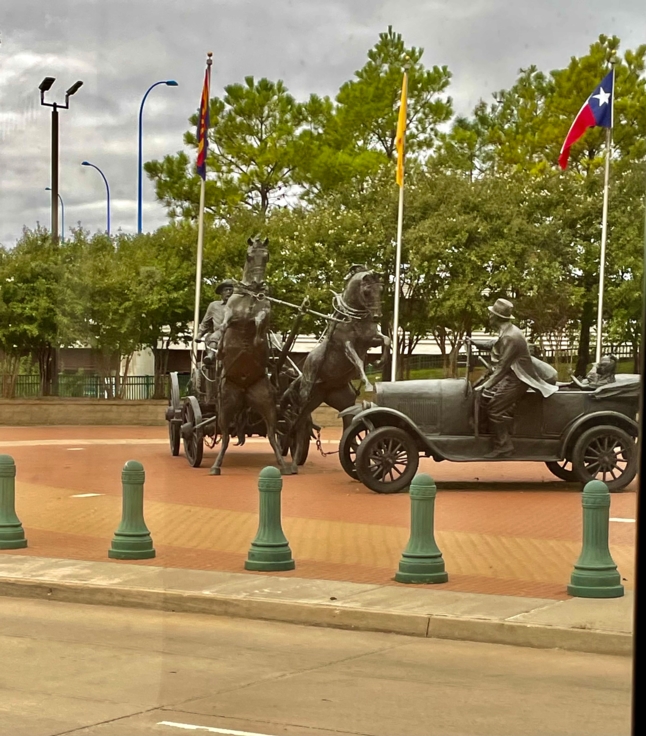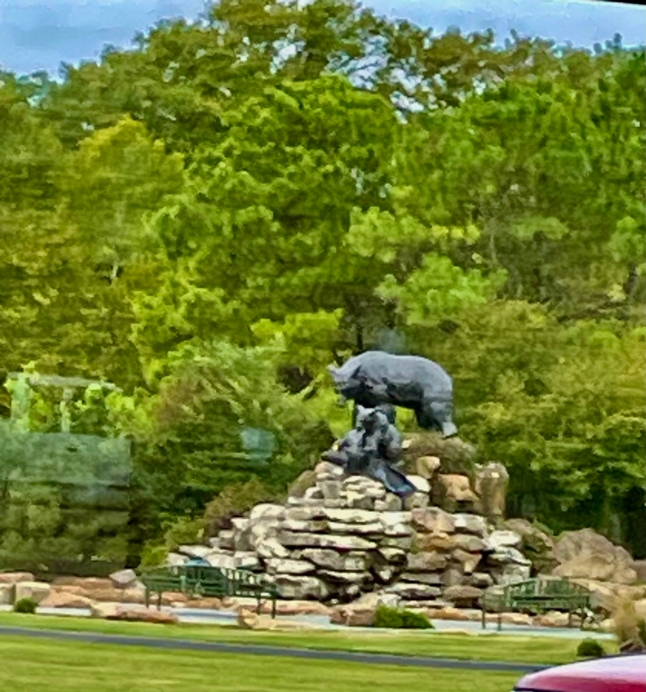 Nature Works Sculpture on Riverside Drive.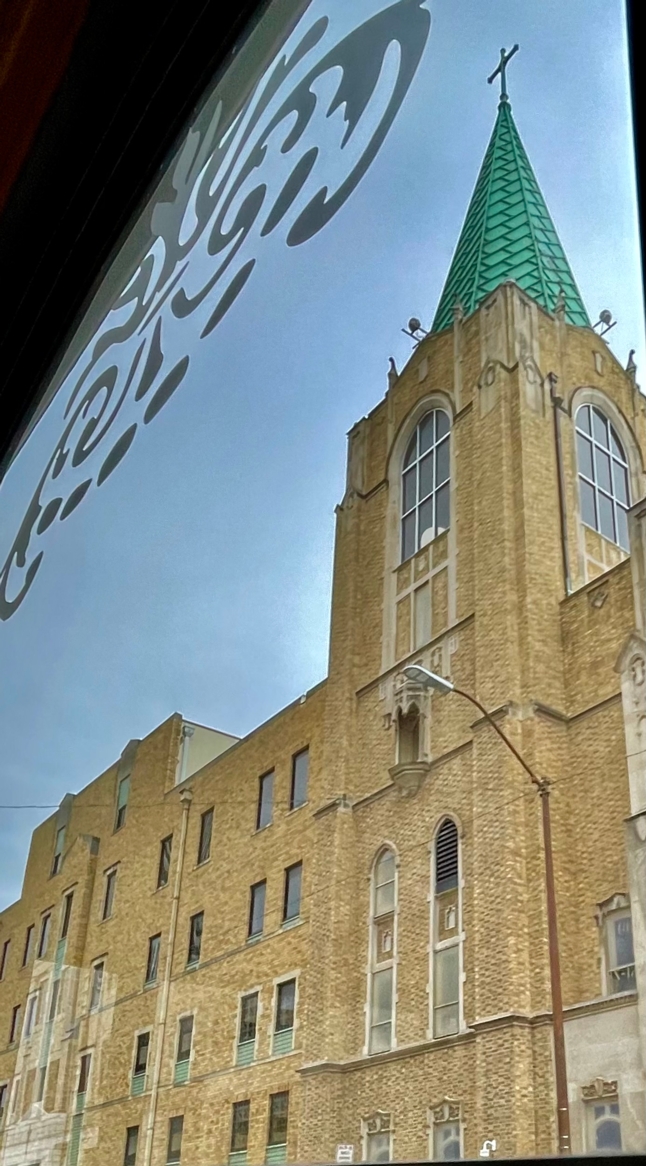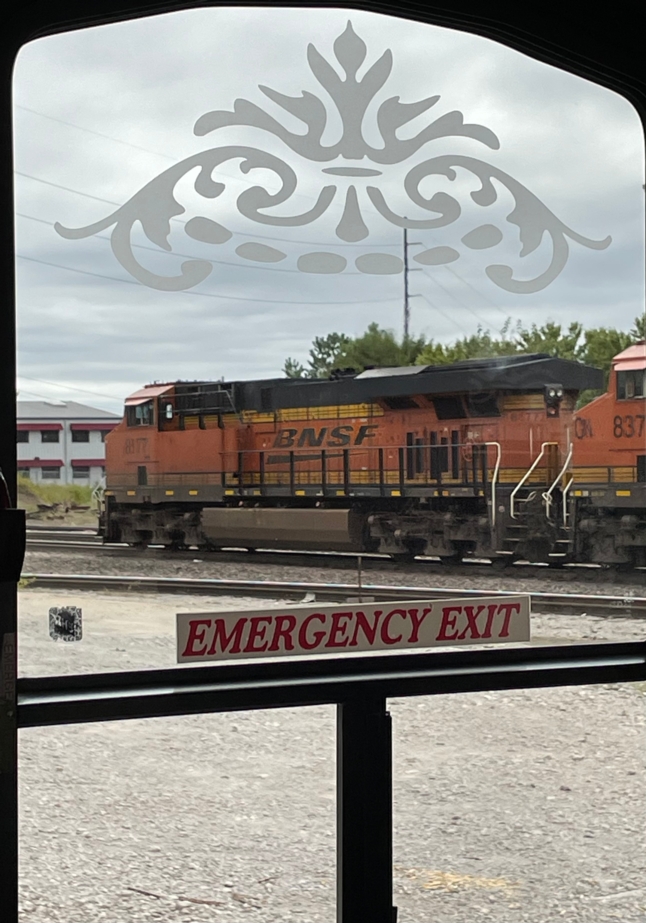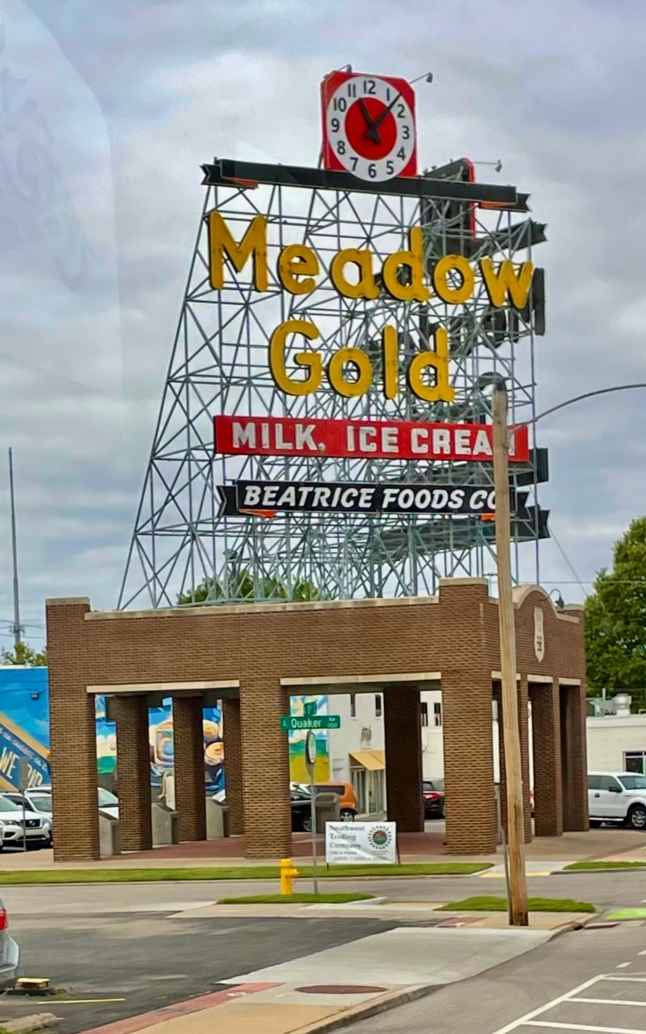 No words are needed here. smile.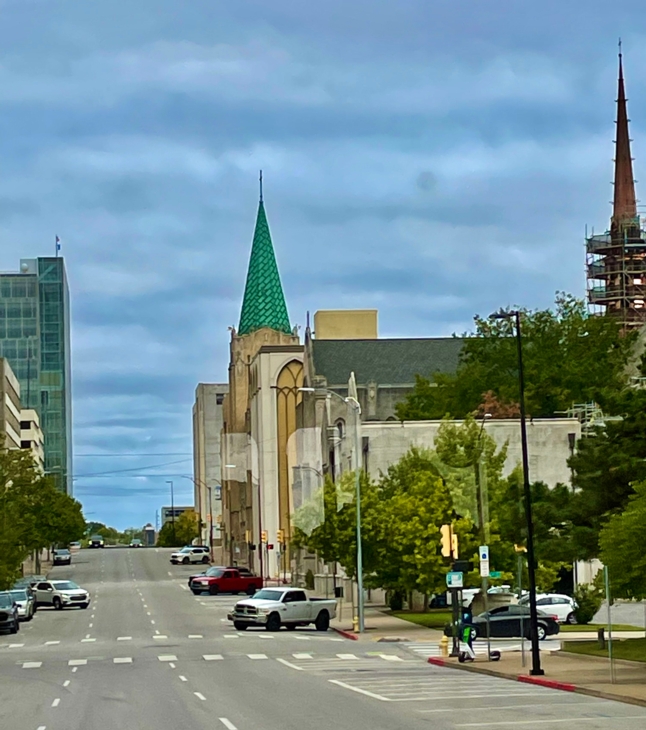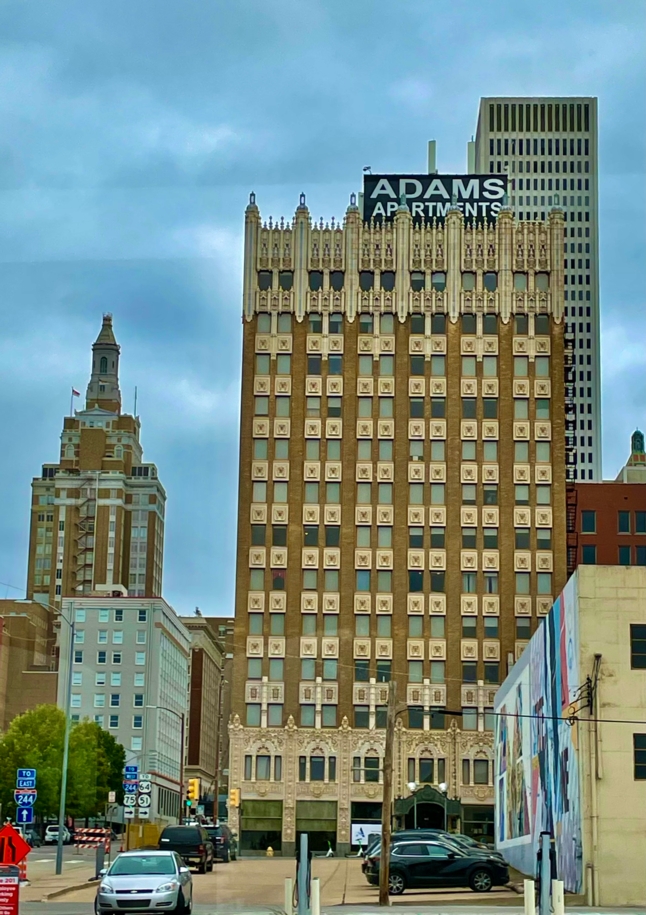 Tulsa is a beautiful city with many buildings in Art Deco Architectural Style.
What a great bus ride with a very animated and knowledgeable guide. She brought much of our history alive for those on board. (Thanks to Franklin Daggs for making all of the arrangements..)
ON TO OUR GREAT WILL ROGERS TOUR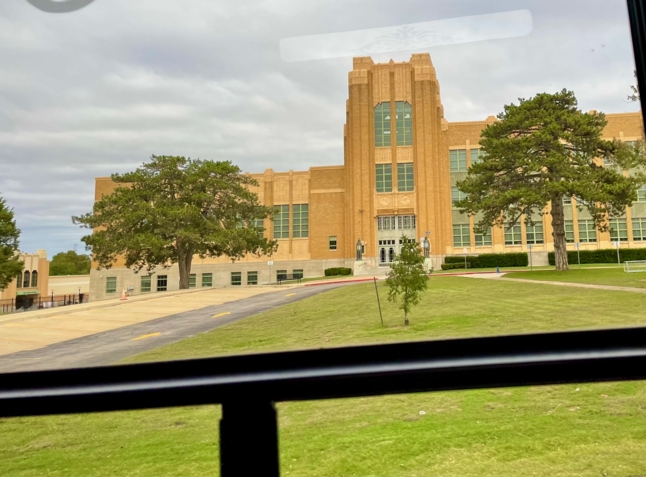 There she is....still beautiful as ever in the outstanding "Art Deco Style"....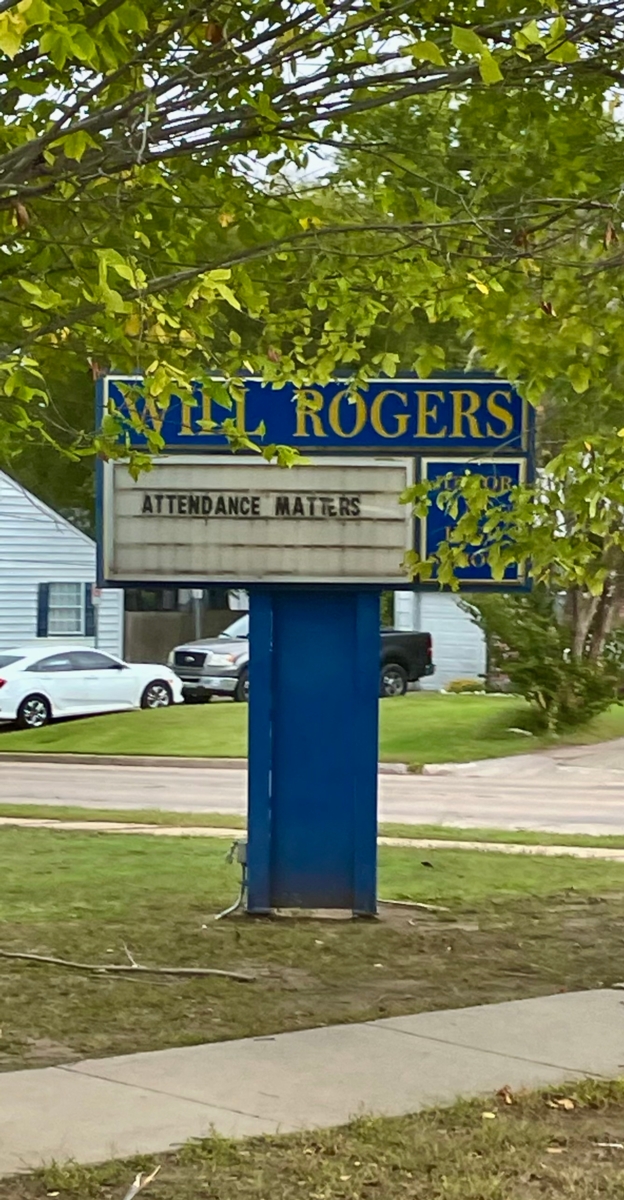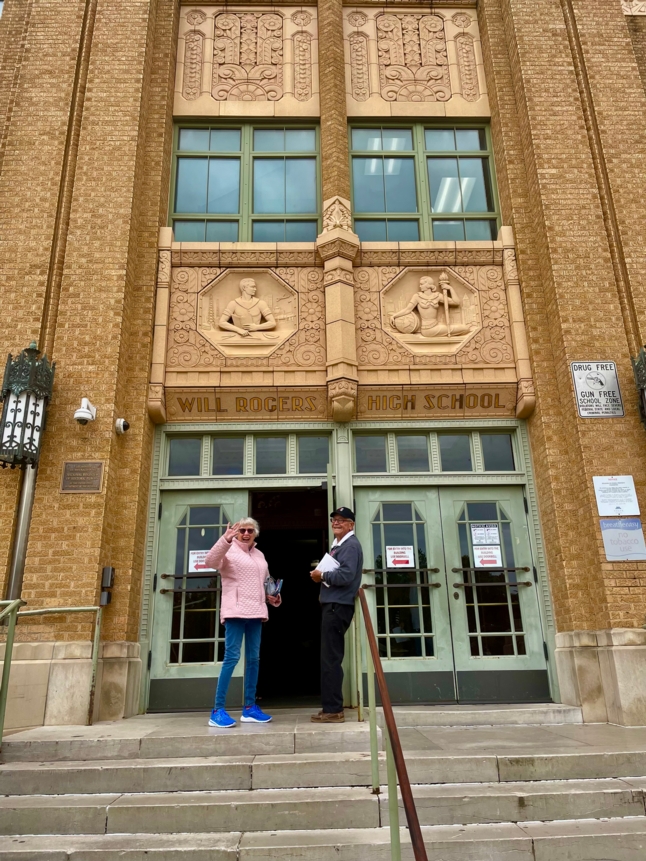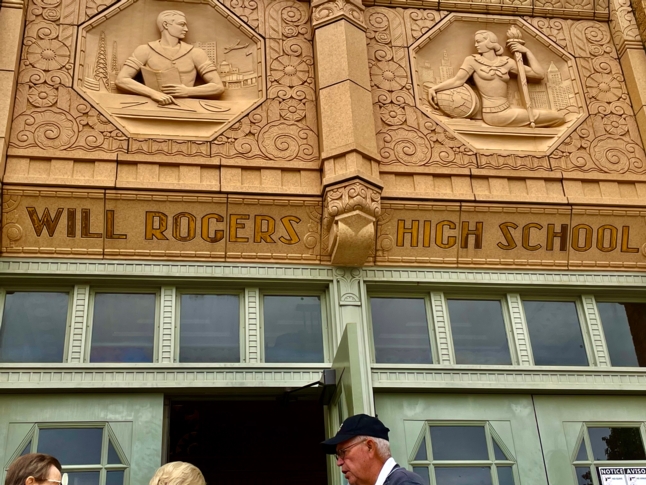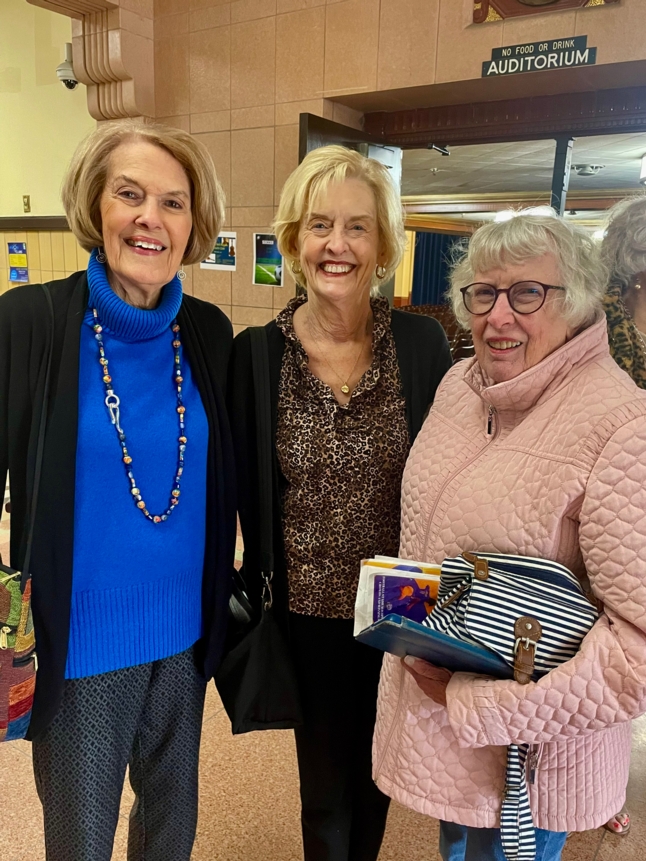 Carol Davis, Linda Sellen, Ellen Wagner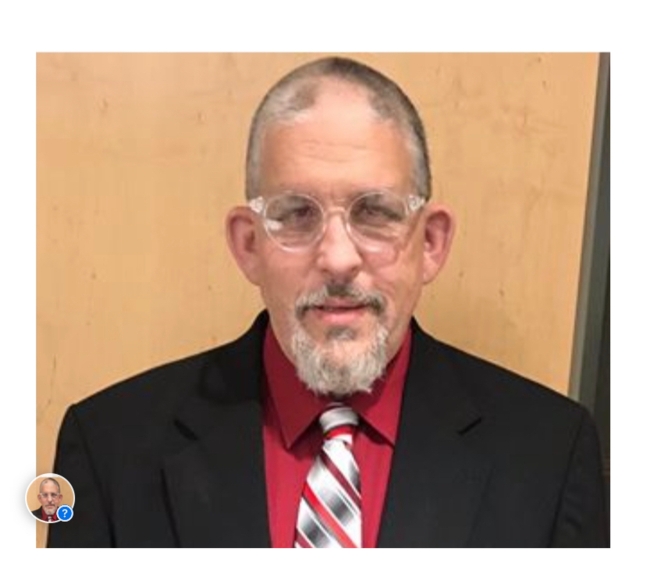 The School Tour Guide was a gentleman who teaches History at Will Rogers. He is very proud to be affiliated with such a great school....His name is Vincent Facione. He is the Chair of the History Department. To learn more about him you can Google his name. His educational experience is very impressive.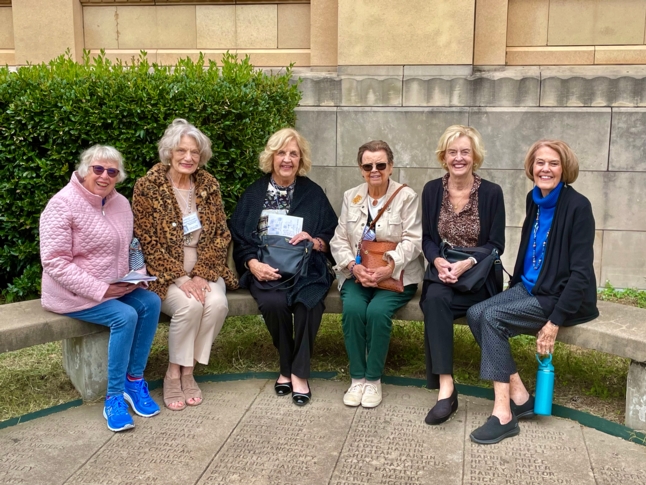 Okay Ladies... now move over. r...I would love to be sitting with you. (smile)
Ellen Wagner Stotts..(left) , Connie Clelments Rinner, Ellen Dee Waltrip Rackleff, Betty Tinkle Chezem, Linda Sellen Frazier and Carol Davis Aastad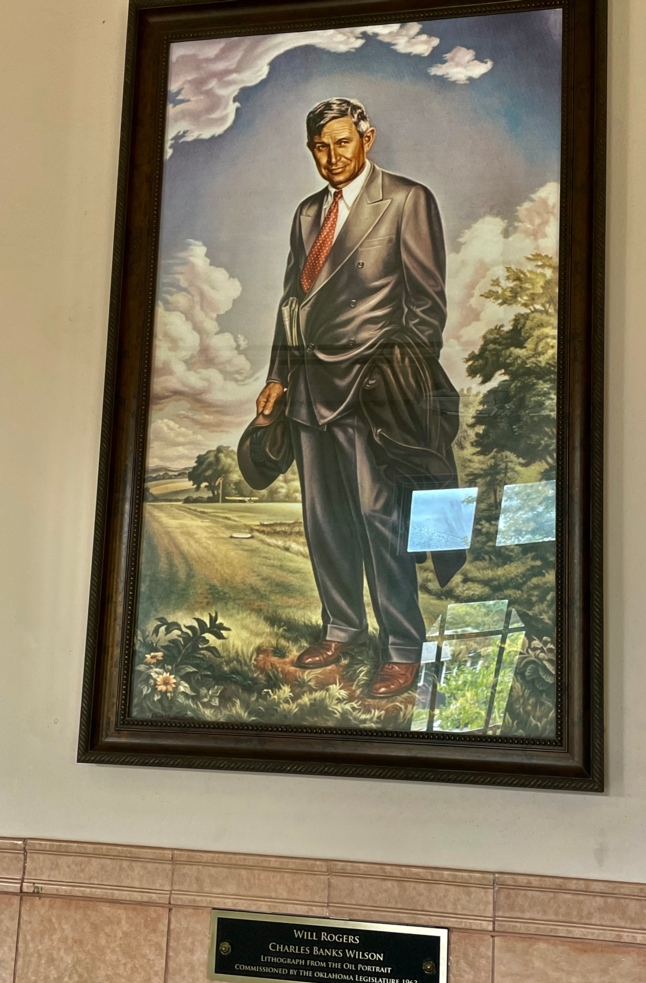 A Real Hero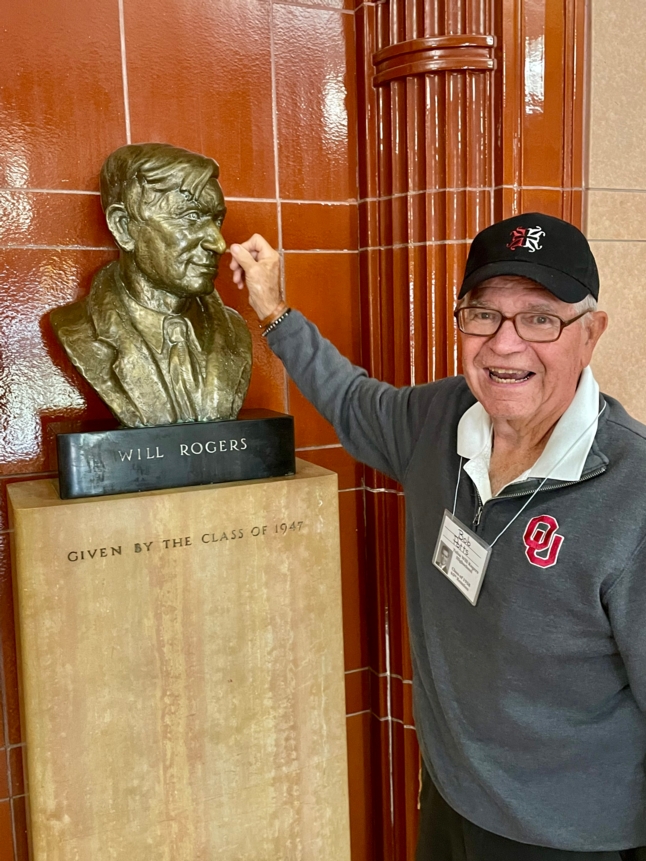 Okay, Bobbie Jon knows exactly what the tradition was and still is on acknowledging the bust of our famous Will Rogers .....shine that nose!!!! If you do?....
Good luck forever!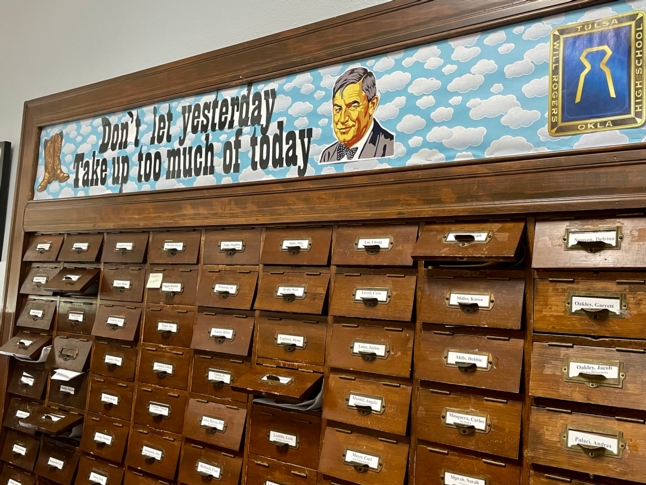 (Uhhhhh, Junior Theme? anyone? )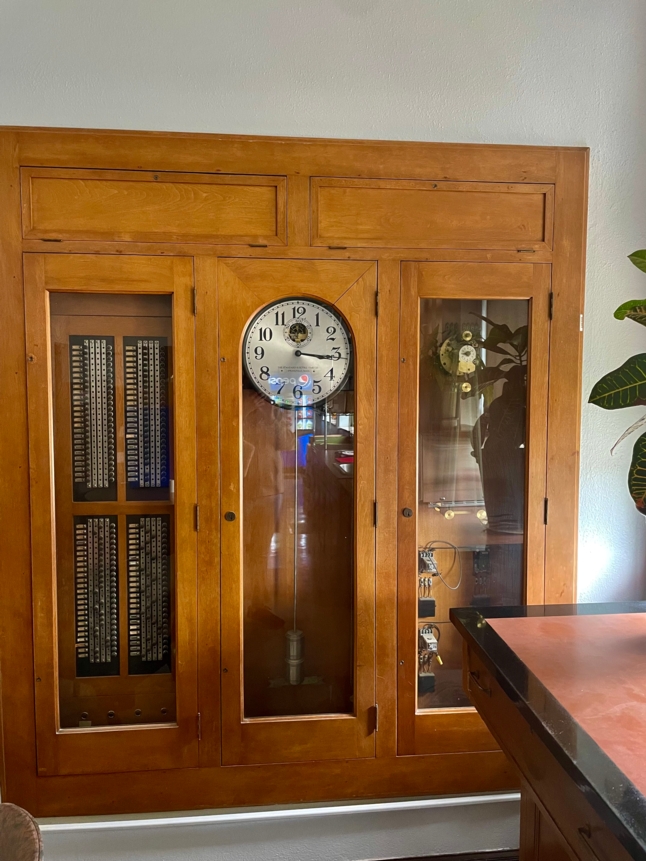 Who remembers this...and what was it used for?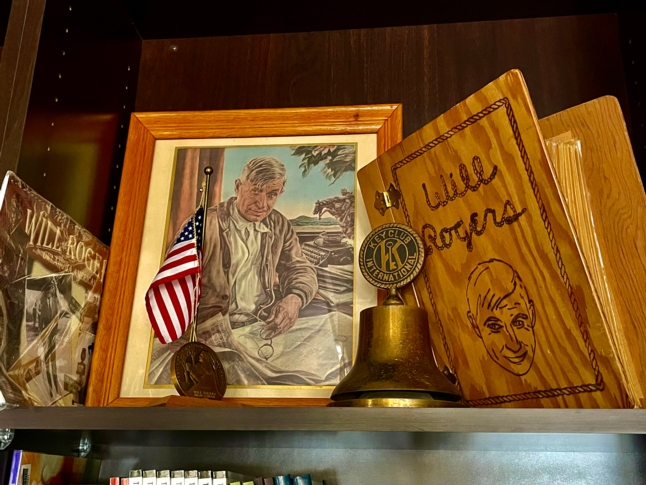 Our Will Rogers Memorabilia!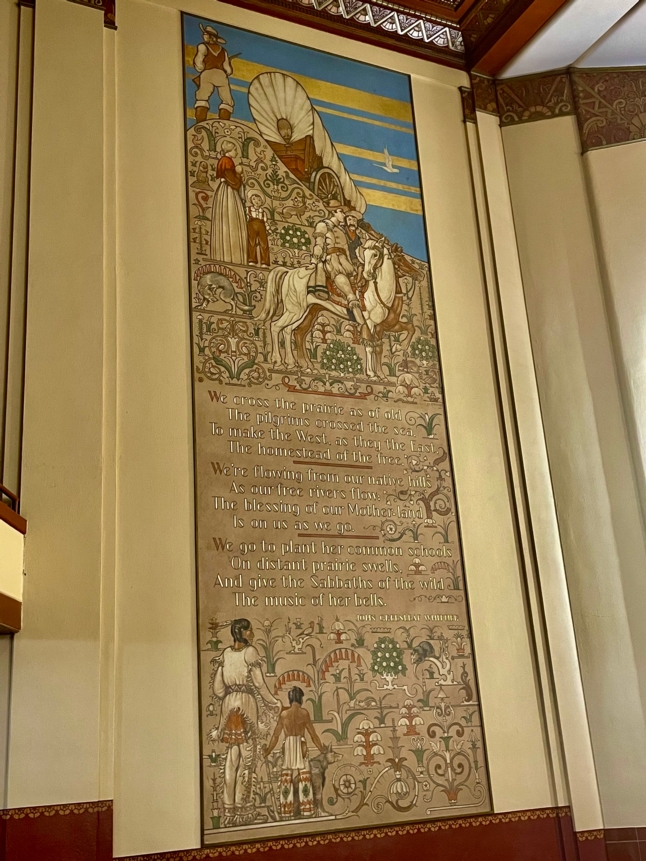 Now, as we sat in the inner sanctum from 1955-1958, we did not realize how wonderful our school architecture was or how special our assemblies were directed by Doris Niles. We know now and are we ever grateful, huh?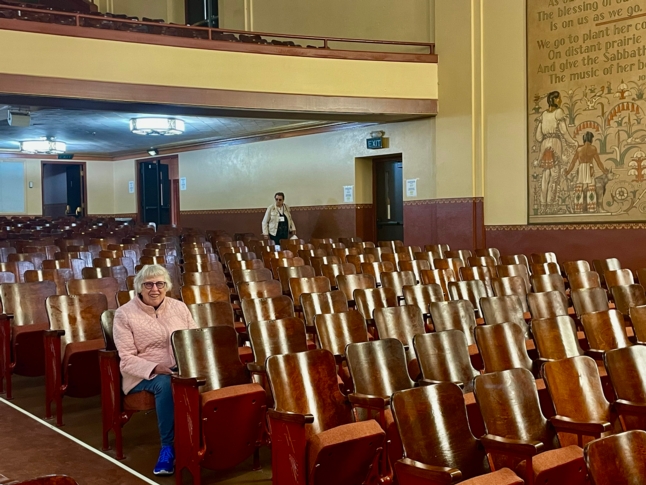 Ellen Wagner Stotts Sitting in her special seat 65 years later!!!!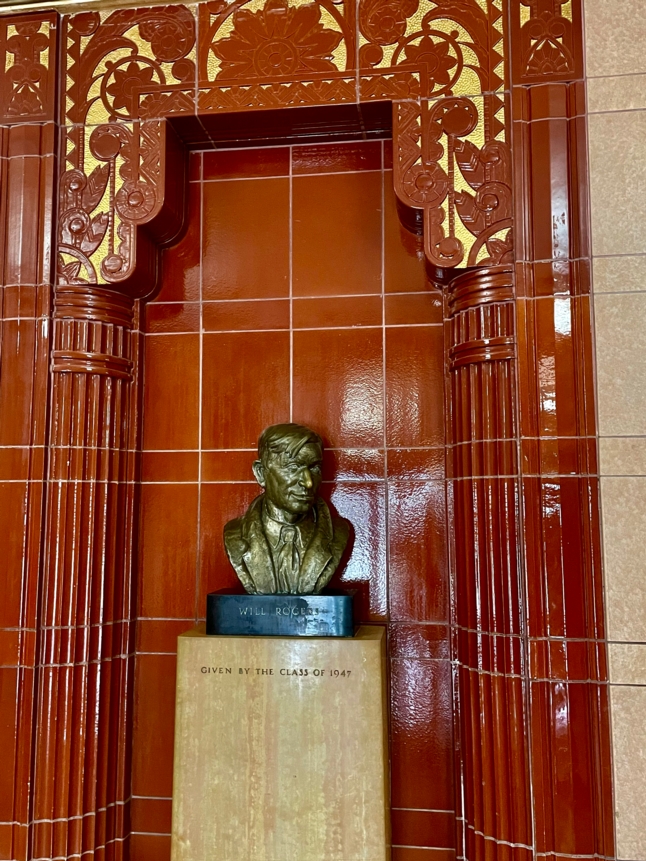 Wonderful memories of our school years at Will Rogers High School. Never ever to be forgotten.
So long , Will.
Classmates of l958
SATURDAY NIGHT IS HERE!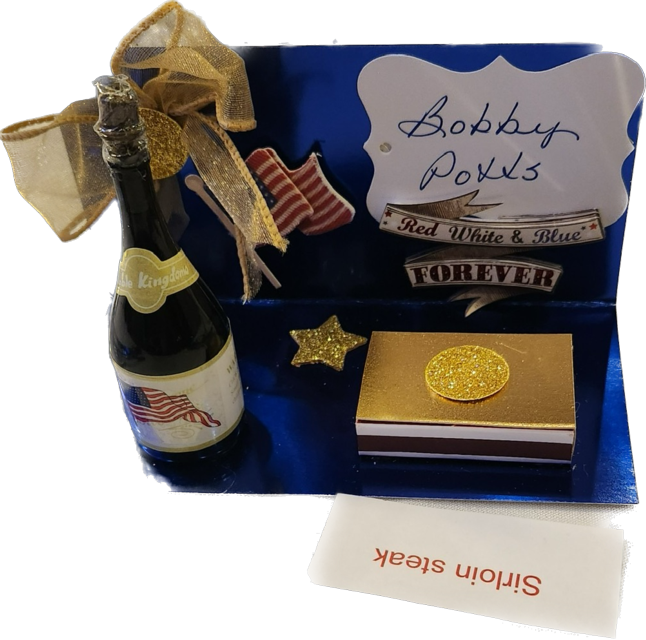 TABLES WERE DECORATED BY GATRA AND HER COMMITTEE....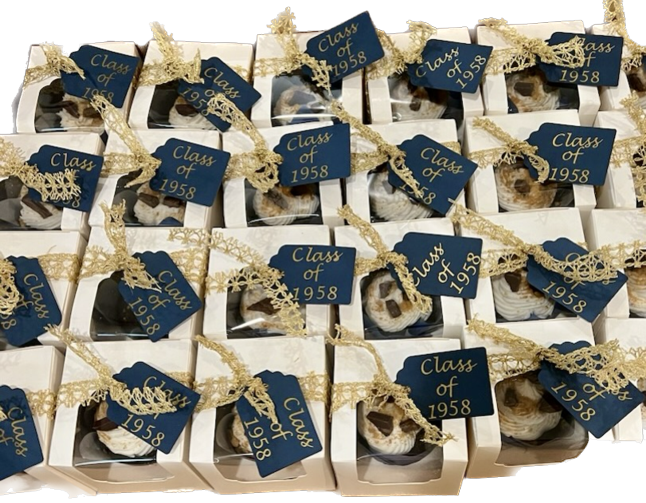 CUPCAKES WERE BAKED BY BOBBIE'S GRANDDAUGHTER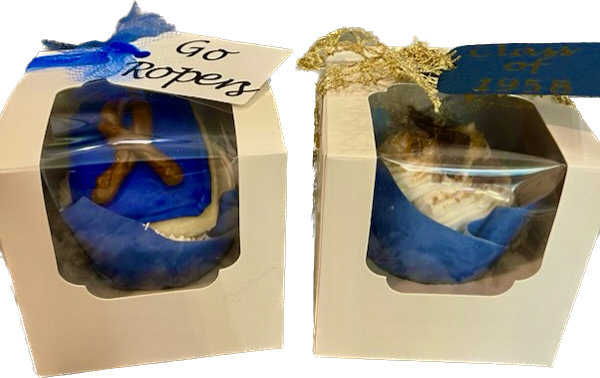 AND.......BABY was IN THE KITCHEN TO HELP MOMMY TOO! (THOSE CUPCAKES TASTED REAL GOOOOOD!)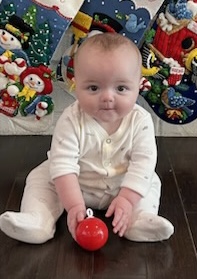 TABLE WAS BEAUTIFULLY DECORATED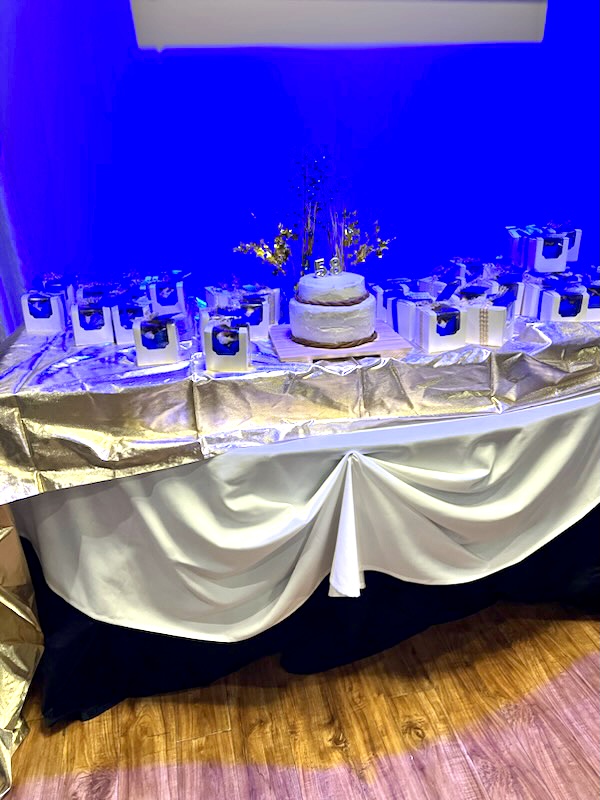 And........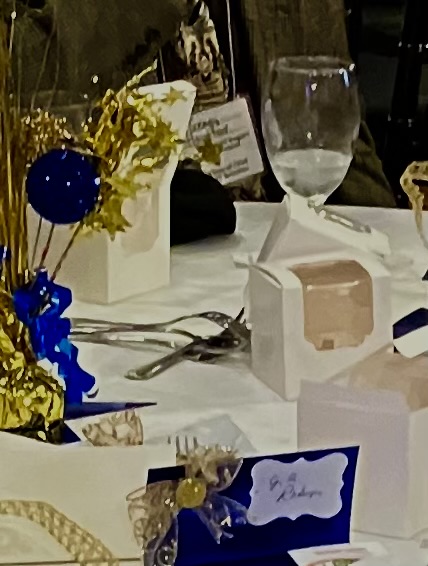 G.A. ROBEY FOUND HIS PLACE!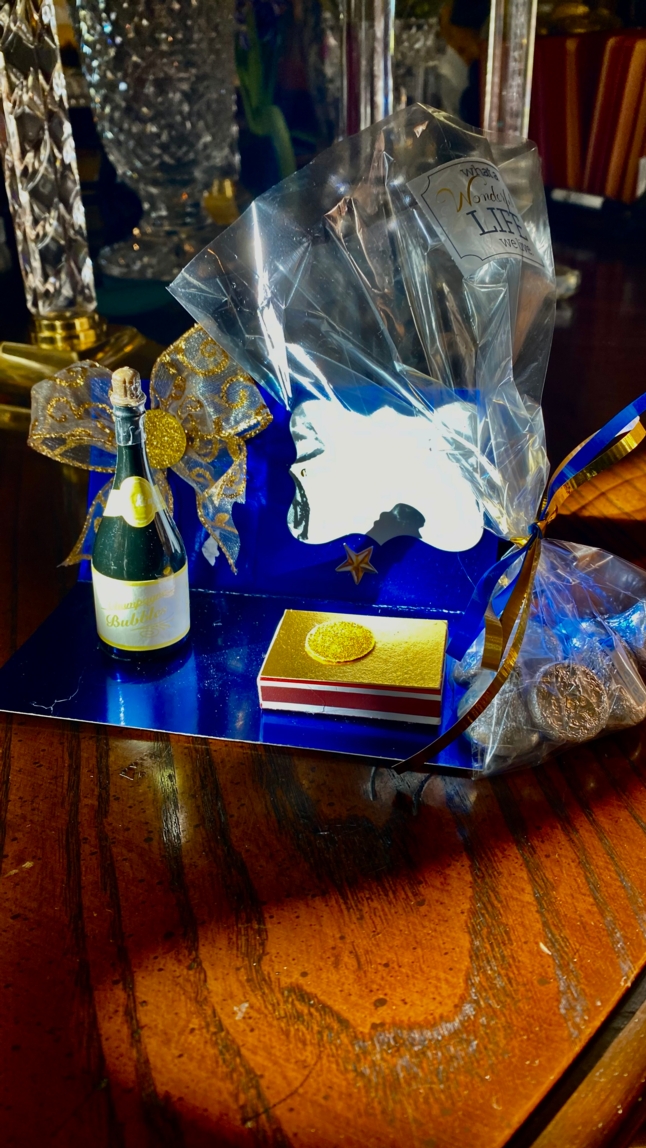 PLACE CARDS CONSISTED OF A "BOTTLE OF BUBBLES" AND A LITTLE MATCHBOX TO REMIND US TO KEEP LIGHTING THE FIRES IN OUR LIVES..STILL SO MUCH TO DO!
AND A LITTLE SACK OF CHOCOLATE KISSES TO KNOW THAT EACH ARE LOVED! ENJOY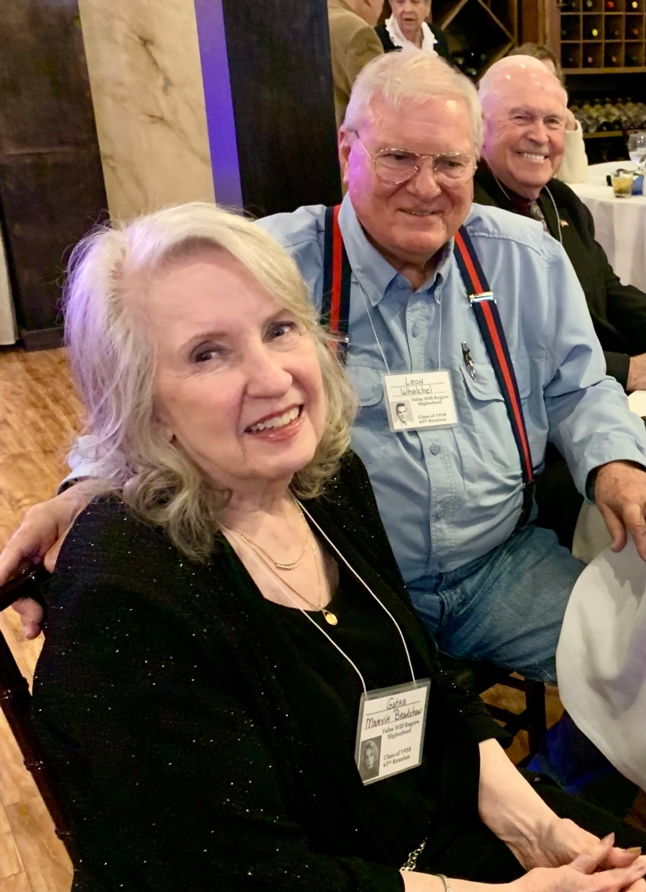 Gatra relaxing after a few hours of decorating tables with friends . . Leon Whelchel thought it a good idea too...his feet hurt! (jt)
Smile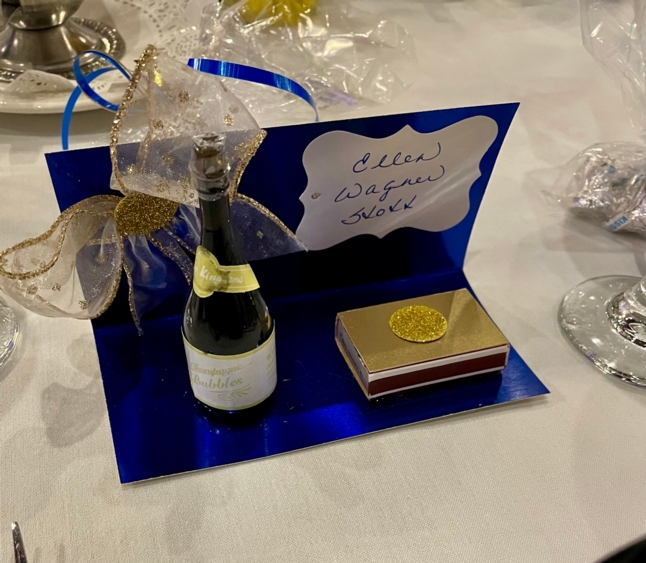 Ellen Wagner Stott sat here!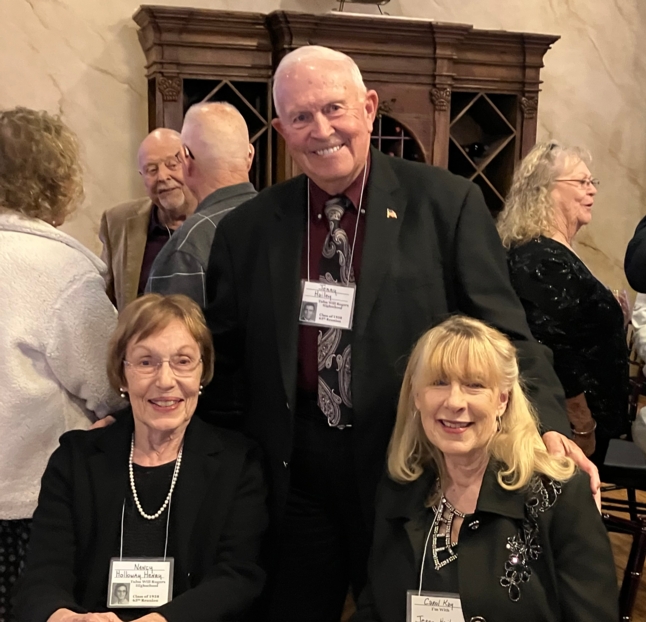 Nancy Holloway Henry was so pleased to know that Jerry Hailey and his wife, Carol Kay were coming to the Reunion! The Haileys hail from Clovis, New Mexico! Good to see you both!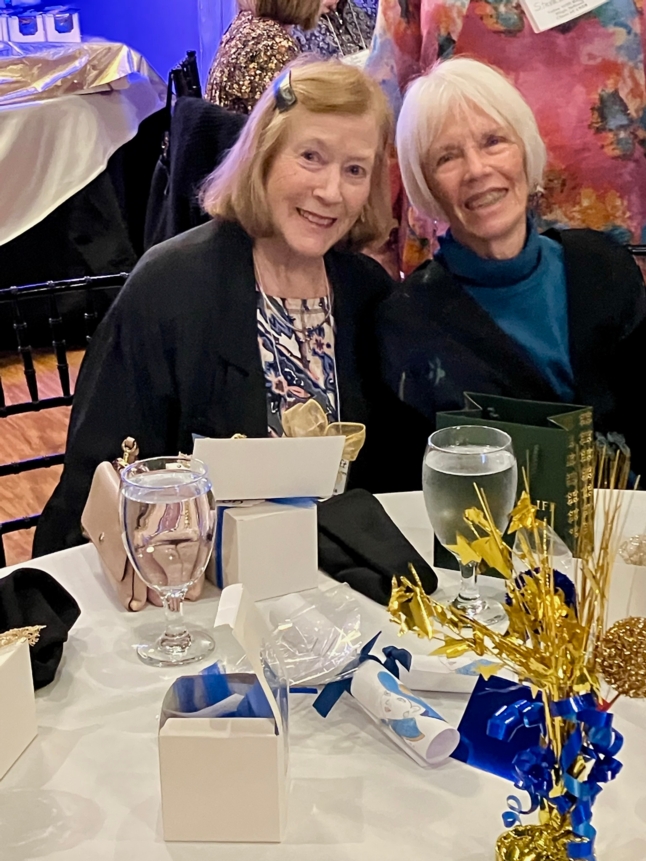 Two dear friends meet again!!!!! Carol Coolidge Ashcraft and Suzanne Smarr Trough....Suzanne and Hubby, Ken Trough came all of the way from Redwood Valley California to join all.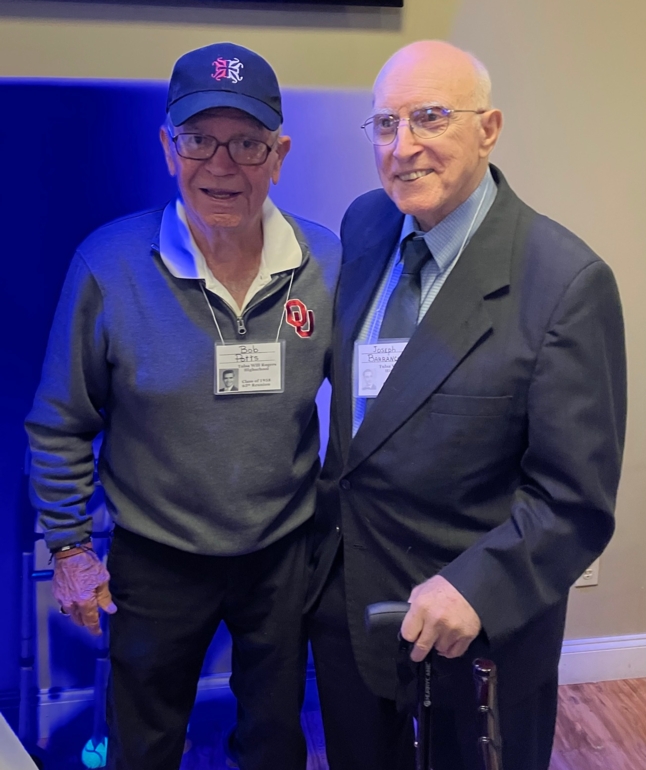 Bobbie Jon is enjoying the time with Joseph Barranco! Happy that you were able to come, Joe.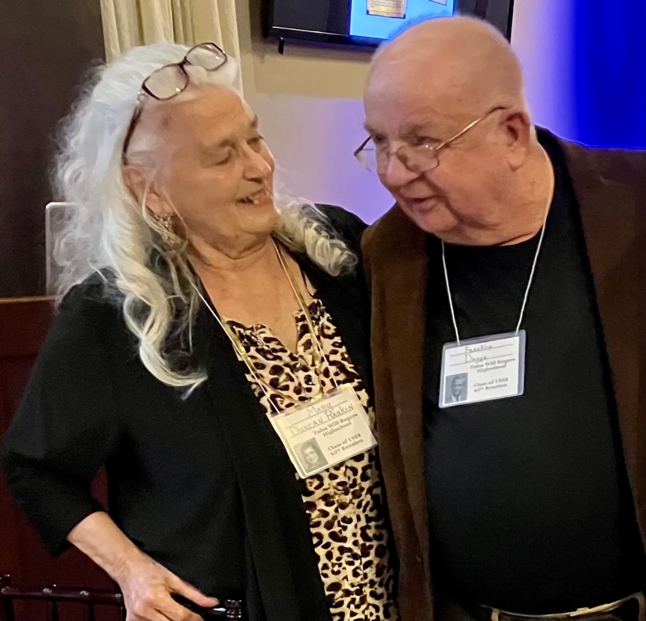 A fun laugh with Franklin Daggs. Mary Duncan Rankin was happy to be there.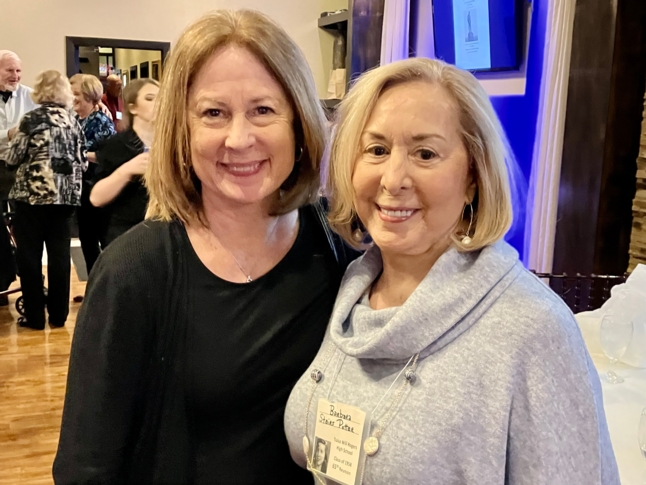 Barbara Staires Potter with daughter, Pam. It was a long way from Houston for them both.
But so glad that they came.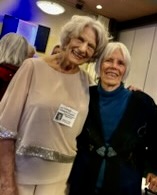 Suzanne Smarr Trough found Connie Clements Rinner to have a party pic taken with...good memories!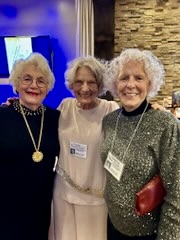 Carolyn Hale Curry, Connie Clements Rinner and our Claudette Reid Krizek who came all the way from Asheville, North Carolina, felt the joy of smiling for this picture! Great pic, girlies.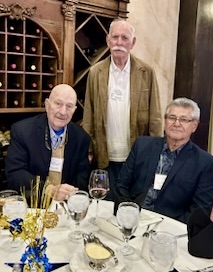 Three Buds! Don Parnell (left)
middle Gary Bartling
and right: Don's Assistant.
Dan came all the way from Ben Brook, Texas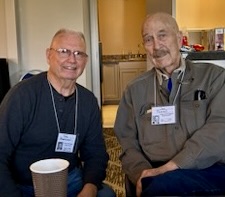 Ahhhhha! There you are ...Tommy Martinson and Don Parnell!
I bet you two are discussing BASKETBALL AND THE GREAT TEAM YOU WERE ON AT WILL ROGERS HIGH SCHOOL IN 1958! If not, you should be! What a wonderful time that was!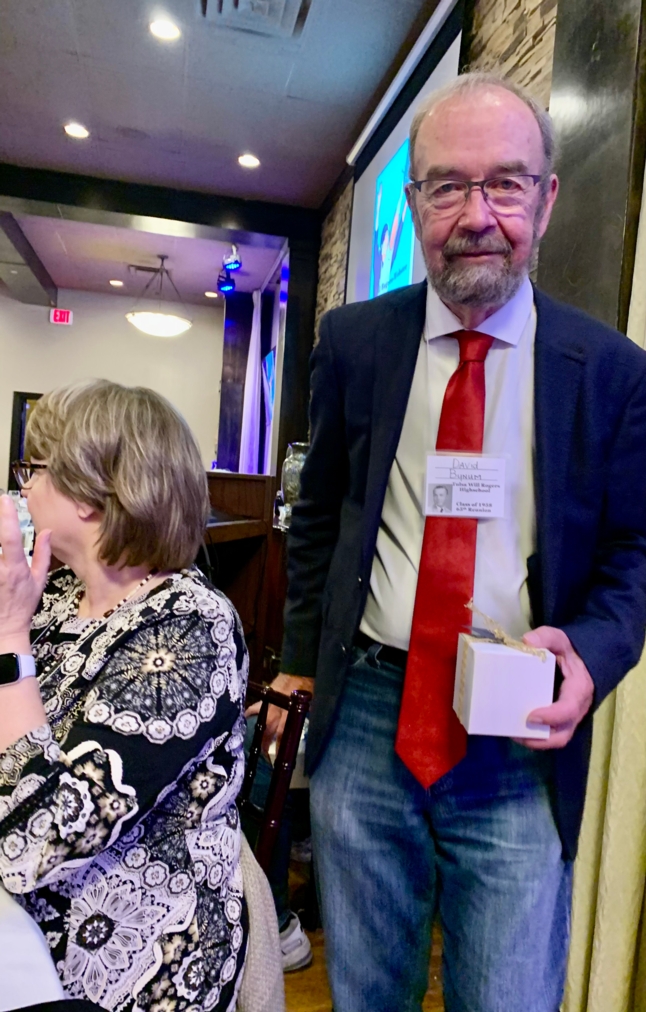 Well, howdy do, Mr. David Bynum! You look really casual and seems like you have had a great time at your 65th Will Rogers Class Reunion! And you do have a real treat to take home in that little white box! (Did you enjoy the candy kisses in the Sack? Hope you did...I made them. smile.) Are you still listening to Rex's interesting words?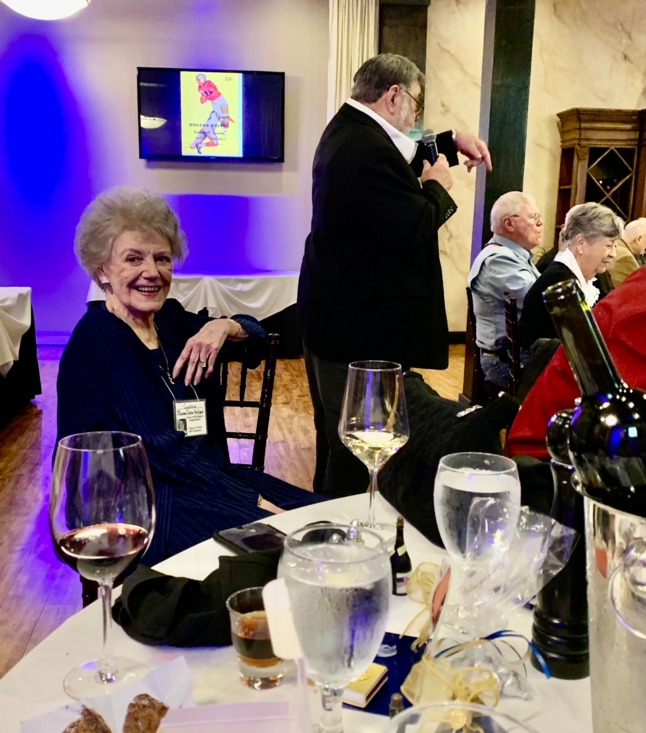 Ohhhhh noooooooo, you must be! Because
Gordona is in a lovely repose while Rex is taking his designated time on the microphone. Enjoy...relax. Gordona. smile.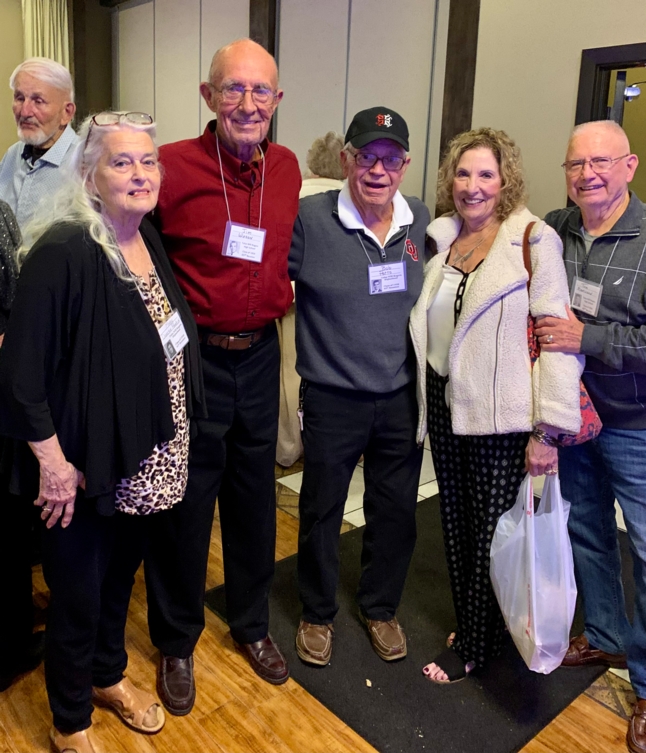 All five friends standing in a row.....is so good to see too! Super picture With Mary Duncan Rankin, Jim Wixson , Bobbie Potts, Tommy Martinson and his wife, Patty.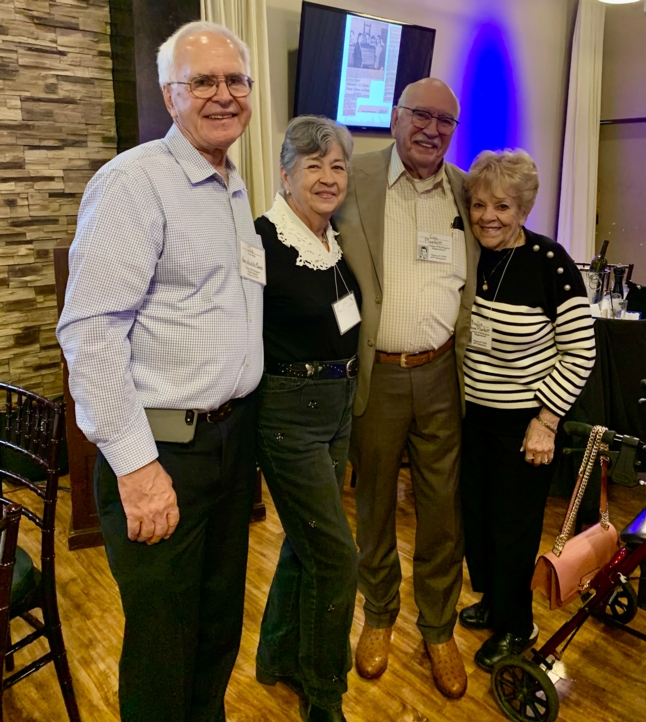 Long time friends, Joe Moore with our Nancy Nuckolls Moore and Coy and Phyllis Saulmon Plunkett! (Nancy, you did an incredible job....and the Committee did their work with great love and commitment too. Thanks to all. dlg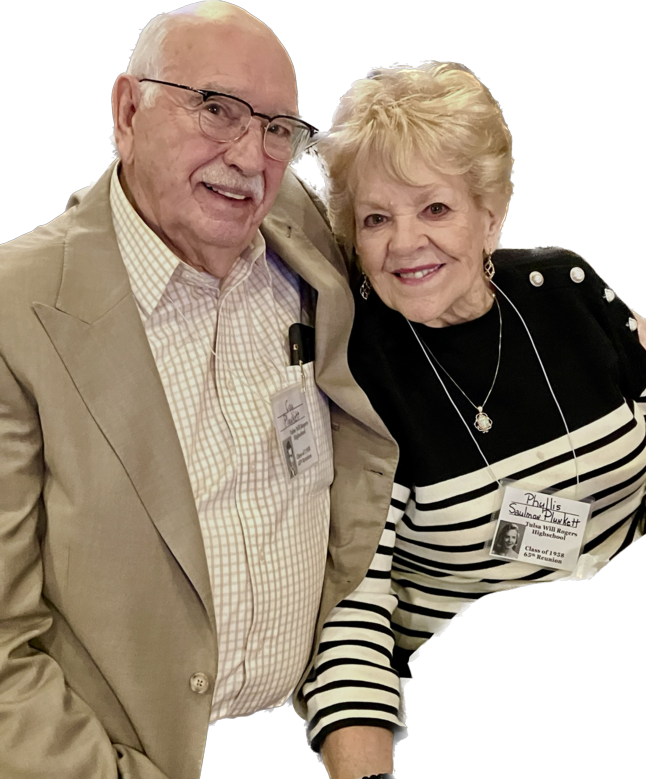 Is this a great pic or what? ( Guys, I learned to make stickers on my photos...so I turned you and a few others into stickers. Smile. Enjoy)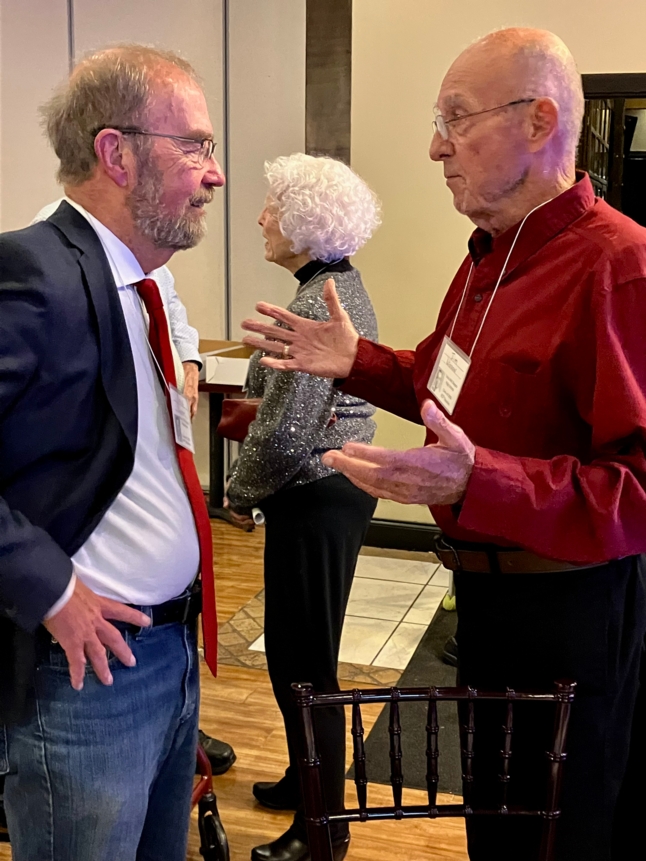 OOPs! I wonder if they are of the same political affiliation. Hmmmm.....smile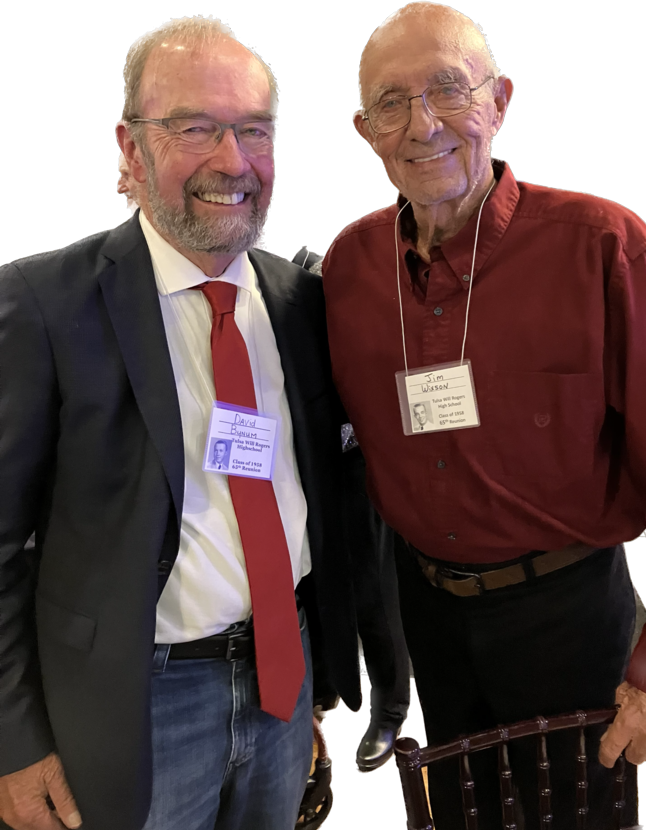 Well, never mind. These guys are two very distinguished Classmates....They both knew each other in Wilson Junior High and David went on to become one of our Hall of Famers! And Jim? He should be! So he is one of the Class of 1958 Honorary Hall of Famers! We are very proud of both of you. dlg and all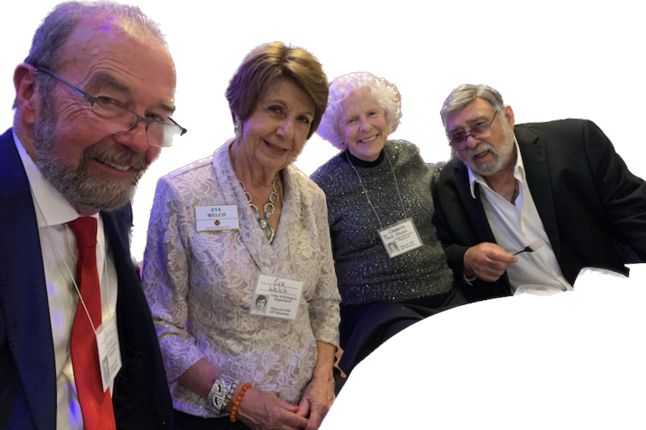 Well, now, here is everyone sitting at a very fun table I am certain! Why....????? Rex was the host...and he wanted each of you to be seated with him. We have David Bynum, our Eva, dear Claudette and Our "KING REX"! Know it was great you guys.....dlg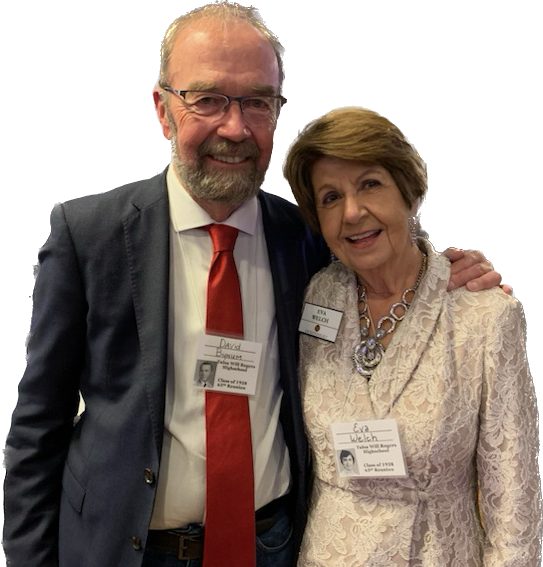 Here we have David B. and Eva.....still celebrating! What an evening to celebrate 65 Years of Graduating from High School, huh?
Uhhhhh ohhhhh, Gordona and Lynn Bynum, Rex has that funny look in his eye! Smile. Just hang on to him...he might be getting to the microphone again. Whatcha think? lol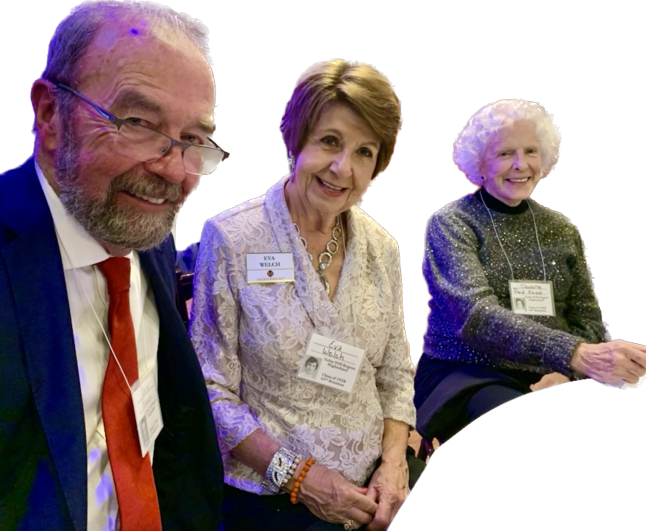 David Bynum enjoyed the company of Eva and Claudette at his table. They are both very accomplished ladies....Eva Welch ....a retired successful Banker, and Claudette? A Lawyer and now a practicing Psychotherapist! What great conversation must have been going on at your table! Smile.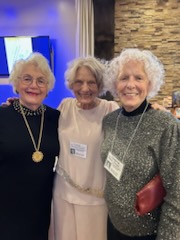 3 Fab Girls enjoying their party pic!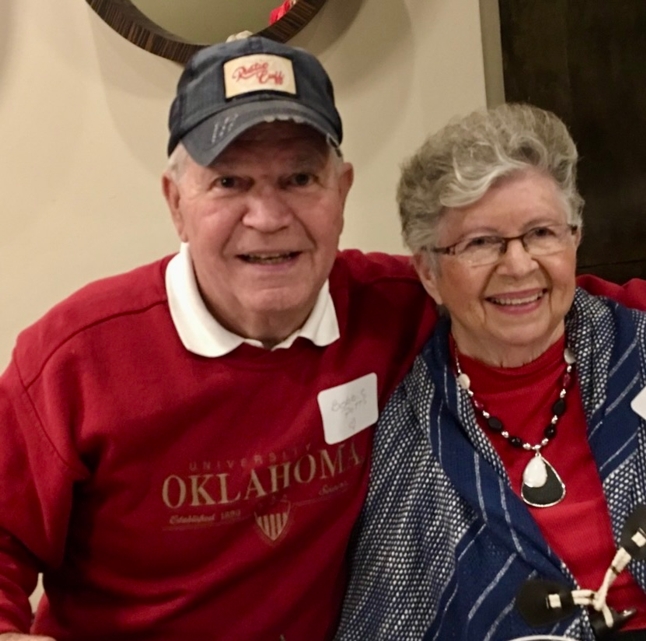 This is one of the greatest party pics I have ever taken! Tis Bobbie Jon and his lovely Bride, Wanda. It would make a great Christmas Card. What cha all think?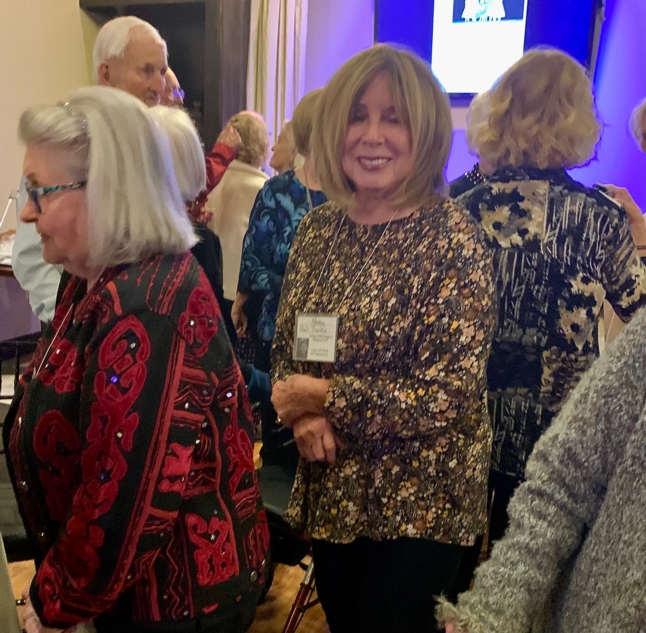 Hi, Nancy Hull Tholen. You look very relaxed in the middle of a room filled with laughter and chatter! Know you are having a great time!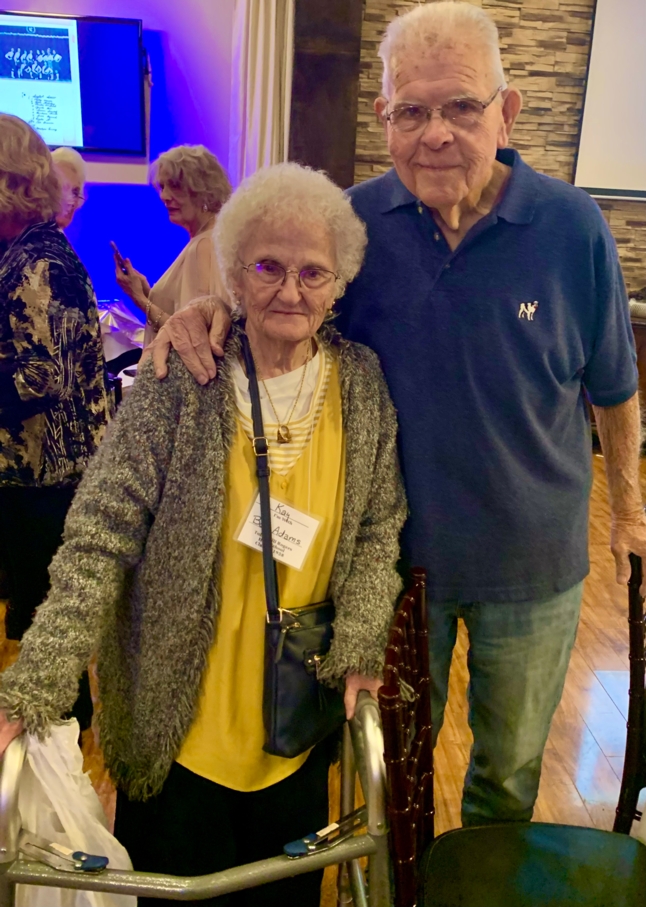 Two of my favorite people, Bob and Kay Adams dressed in our Blue and Gold Colors! Perfect. And Kay has Bob's Senior ring on a gold chain around her neck. Guess they have been going "steady" for over 60 years? smile.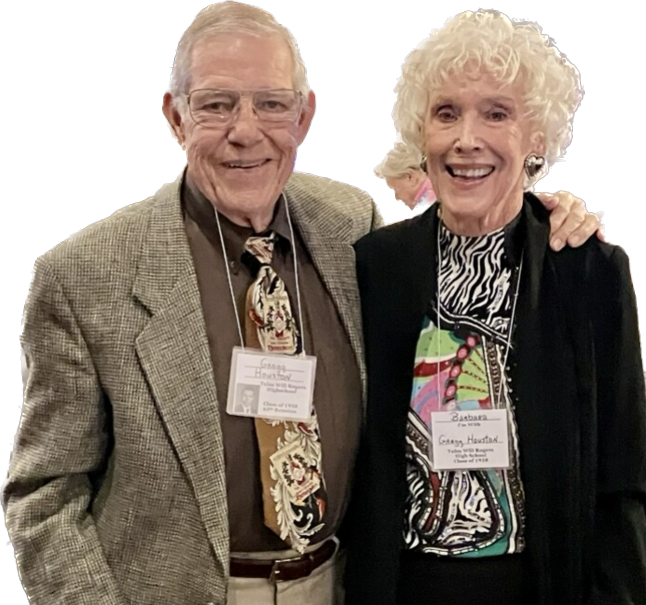 Hi, to you Gregg and Barbara Houston. You both looked very glad to be Celebrating with all of us! Looking great!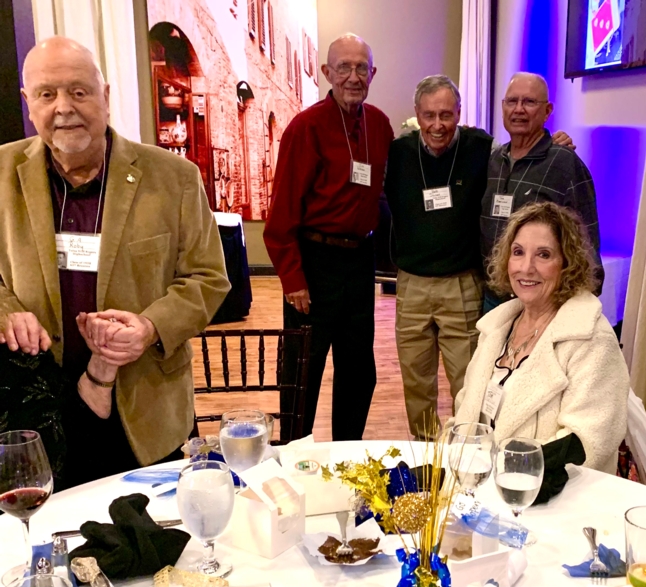 Okay, now, who said what to make Bob Sloan laugh so hard? Was it you, Jim Wixon..was it you Tommy Martinson. Hmmmmm... might have been G.A. Robey! Never will know. Good to see all of you. smile. dlg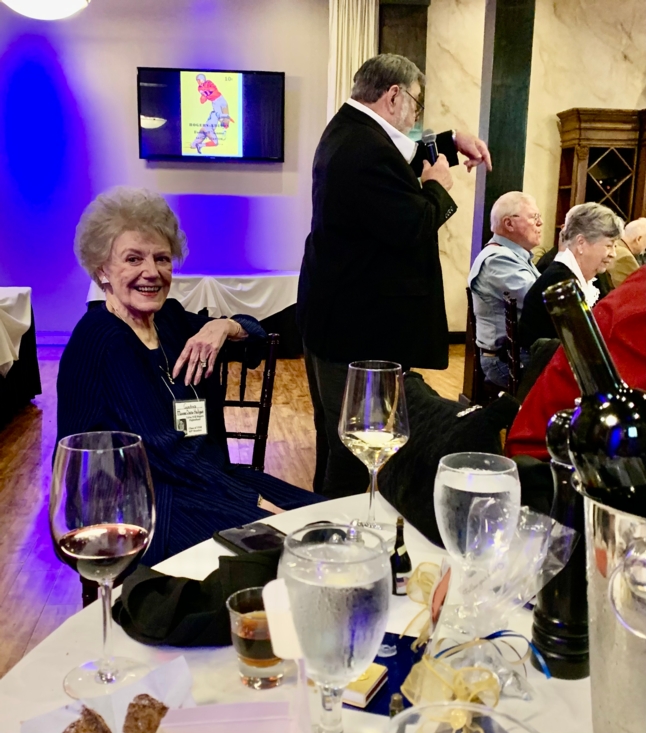 WHAAAAAAAAT? Gordona is still sitting in the same lovely repose and KING REX! Is he still on that microphone? Ohhhhhh mercyyy!
Hang in there, Gordona, he will be winding down soon. (wish I had been there to hear his Toasts...or...his?...smile..just teasing of course)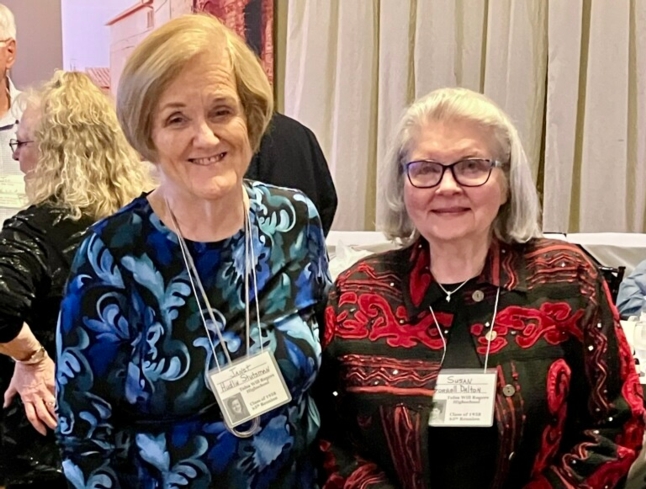 Hi, Janet! So glad you came and a great picture of you with Susan Gorrell Dalton! Hope to see you at exercise! (Time for me to get back...too many sweets my way..lol) .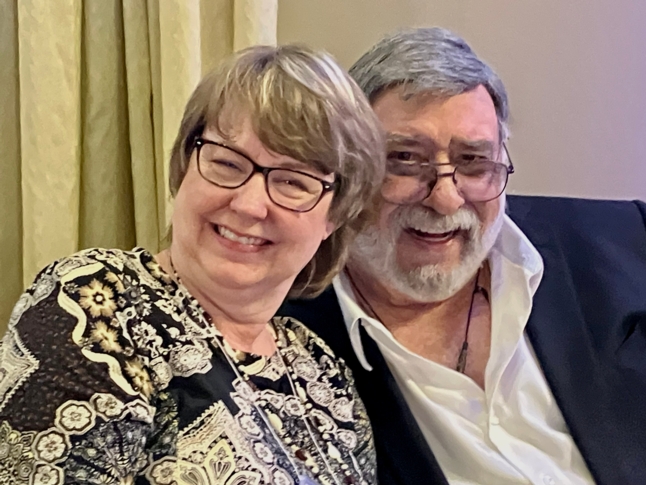 Ohhhhhhhhh my goodness! Lynn Bynum, what did Rex say? There is a whole lot of laughter going on here and you know what? Is fabulous to see. Know you had a great time!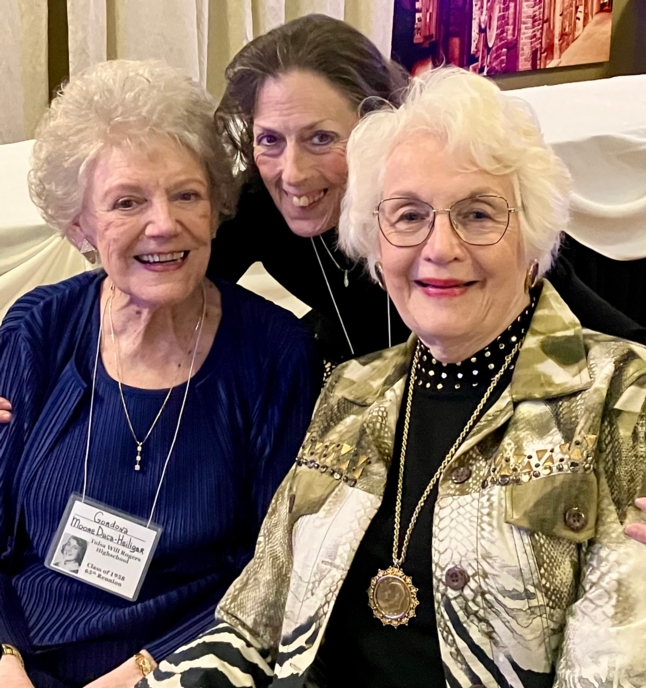 Meet 3 very very accomplished ladies that we should be very proud of. Gordona Moore Heiliger, one of our first Hall of Famers!..Next, Dawn Duca, Gordona's very talented exceptional daughter, and last Carolyn Hale Curry...Artist/Teacher/Extraordinary.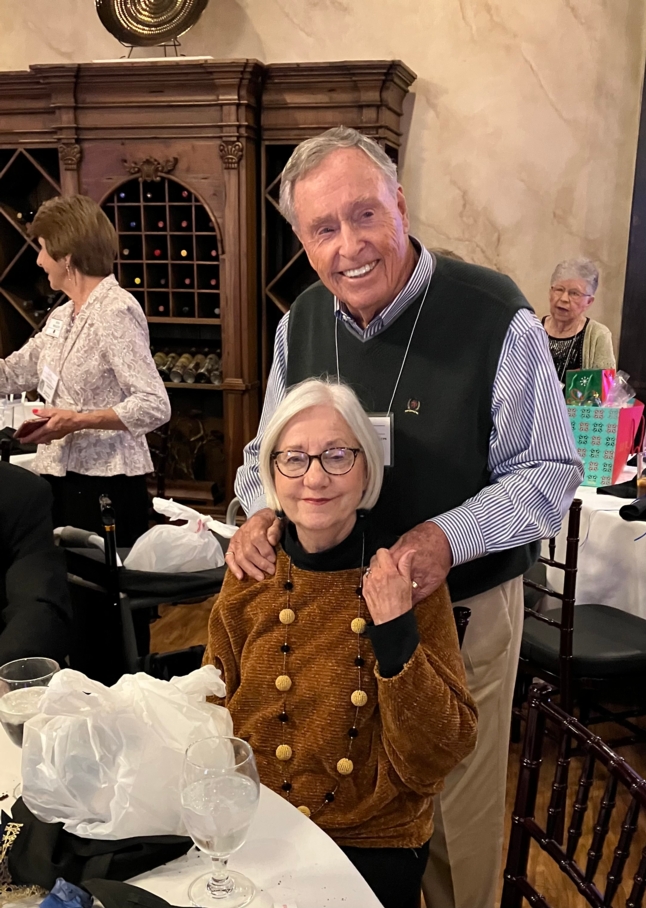 Hello, Robert Sloan....ol' grade school friend of mine...with your lovely wife, Betty, class of 1959. Great picture of you both. (Hey...that rhymed and I did not even know it!) smile.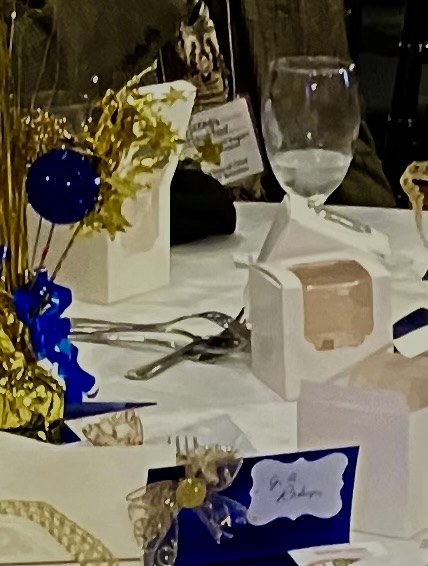 G. A. ROBY SAT HERE!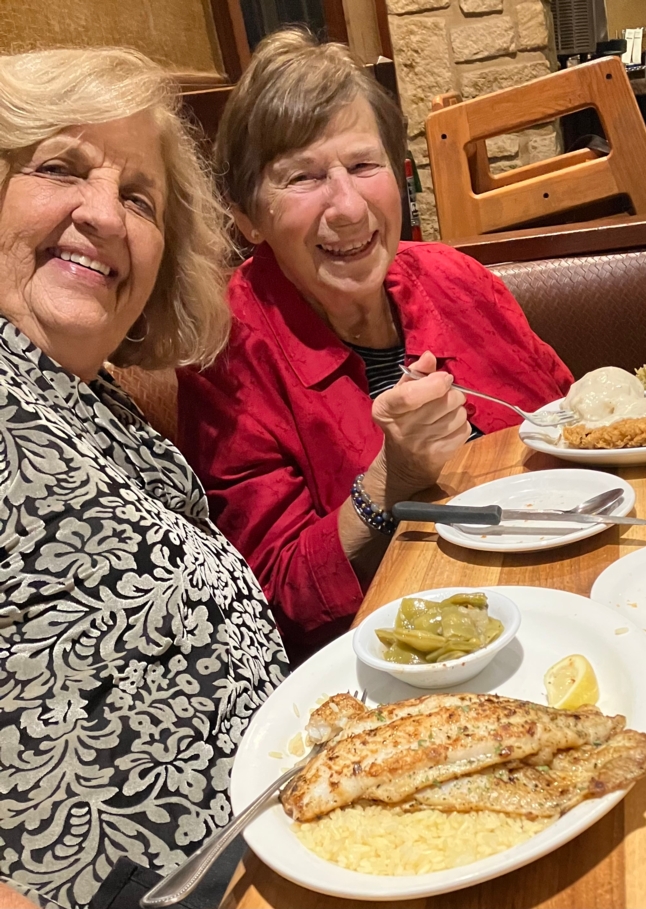 Ladies!!!!!! Where did you get that delicious meal? Looks wonderful and you two look wonderfully happy! Ellen Dee Waltrip Rackleff and Marilyn Arky Jabobski at Chedders.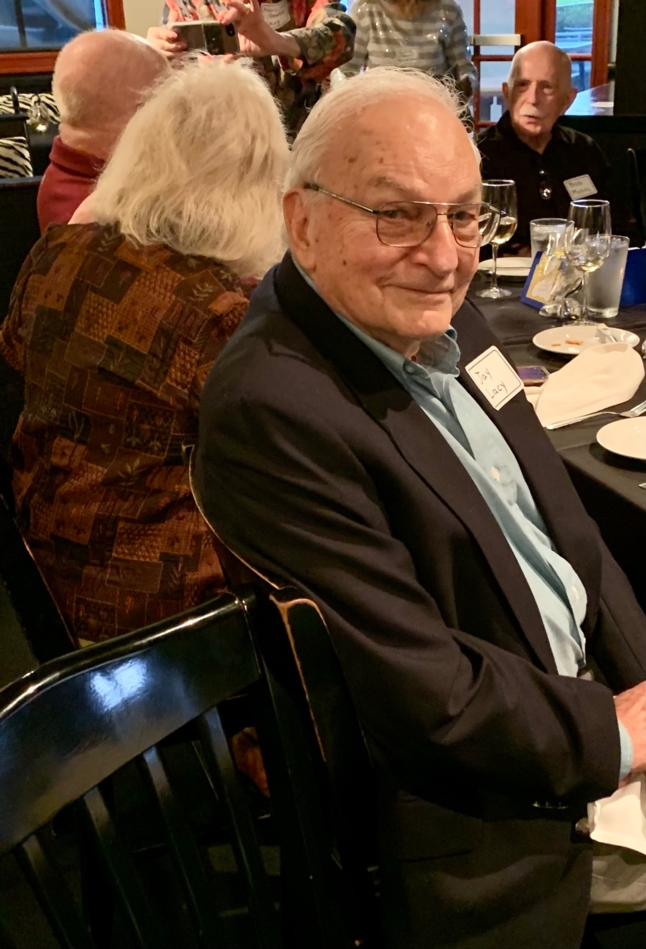 Hi, Jay Lacy ....hubby of Francene. We do hope that you have had a good time. Also, we hope you enjoyed the school tour and meeting all of Francene's classmates. Bring Francene and yourself back to see us...you are not too far away.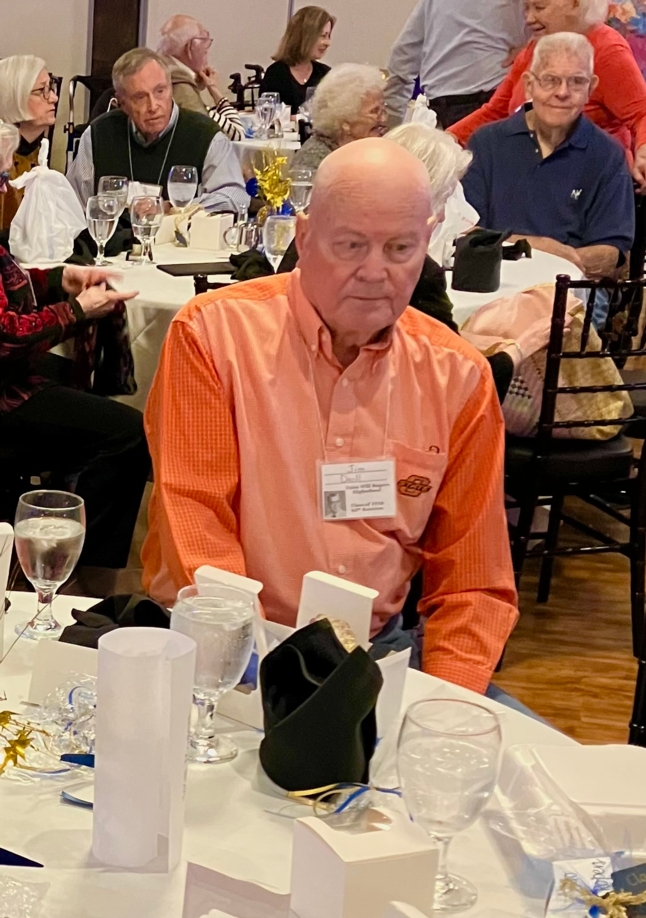 Ohhhhhh, now this is our special "MAN IN ORANGE!" (Jim Droll) He is a devoted Oklahoma State University Fan and he looks so good in his orange shirts and he even drives......yep....an ORANGE TRUCK! Amazing huh? Now, he almost did not come because OSU played KSU last Saturday! (Or was it KU?) Wonder if he was thinking about the score at the time this picture was taken. Well, anyway OKLAHOMA STATE WON! YAHOOOOO! And many of us are grateful for it too! Gooooo Cowboys, Jim!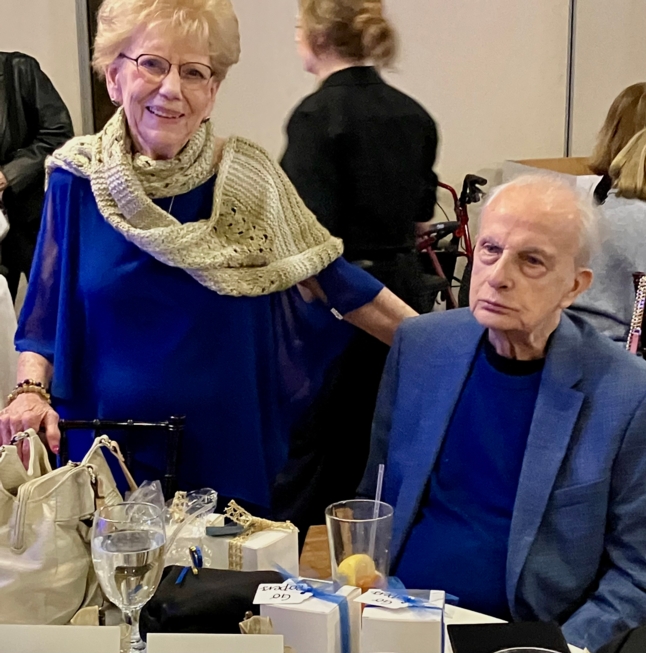 Elegantly looking in their beautiful Will Rogers Blue attire with a touch of gold, Martha Miller and Gary I know enjoyed the evening. They always bring a lot to the Breakfast Gatherings that we have once a month. Kudos to you both. dlg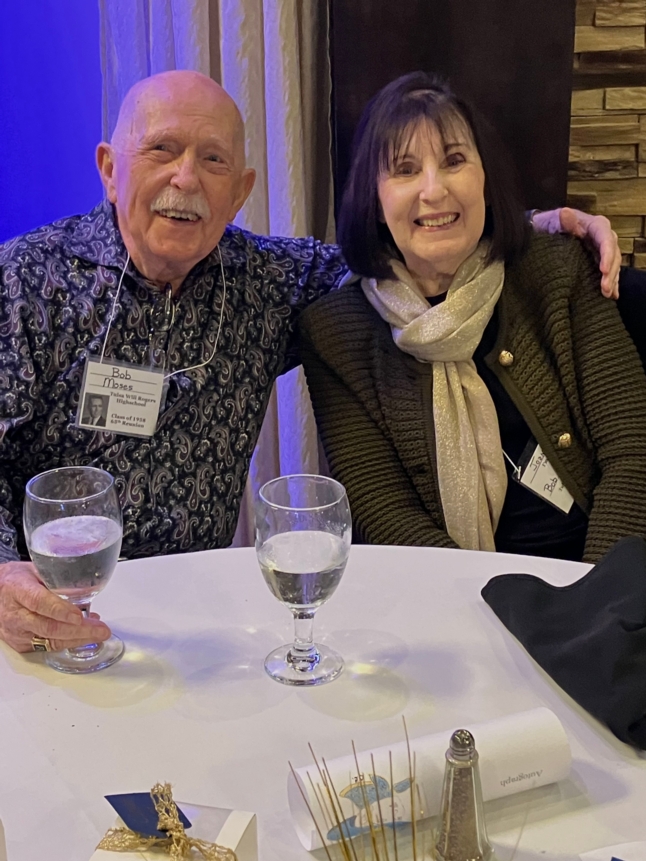 Well, we all meet again, Bobby, The Ice cream man. Great picture of you and Joanne. I hope you liked the Tulsa Bus Tour and the School Tour. If you can, please, jump on "Jus Sayin" and give us a little perspective of what you learned and saw!
I wish all of the Saturday night classmates could have had a taste of your ice cream...it was a real special treat for Thursday night guests. So again, Thank you...for coming and driving it all up here!!! dlgl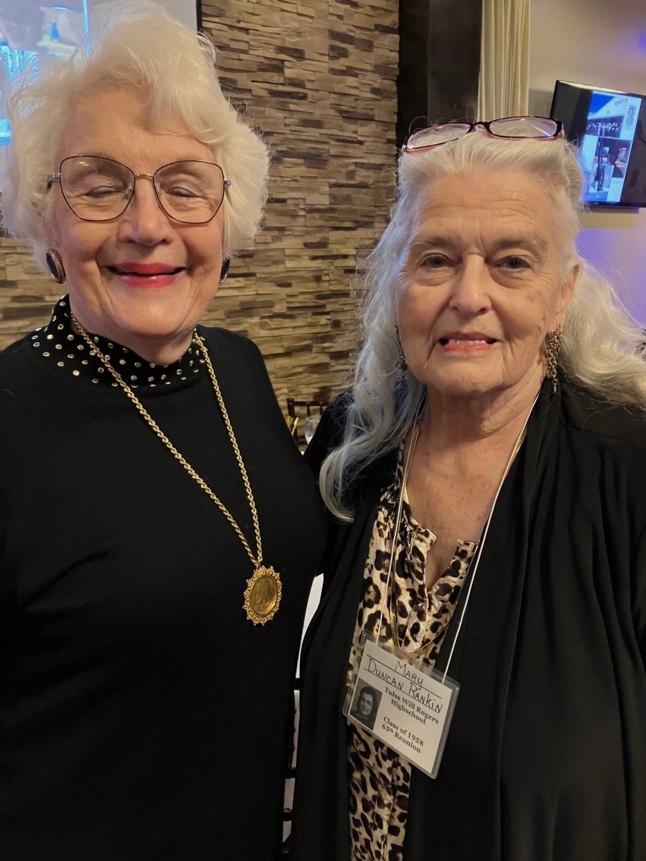 oops! Caught you with your pretty eyes closed, Carolyn Hale Curry, but is a good picture with classmate,
Mary Duncan Rankin.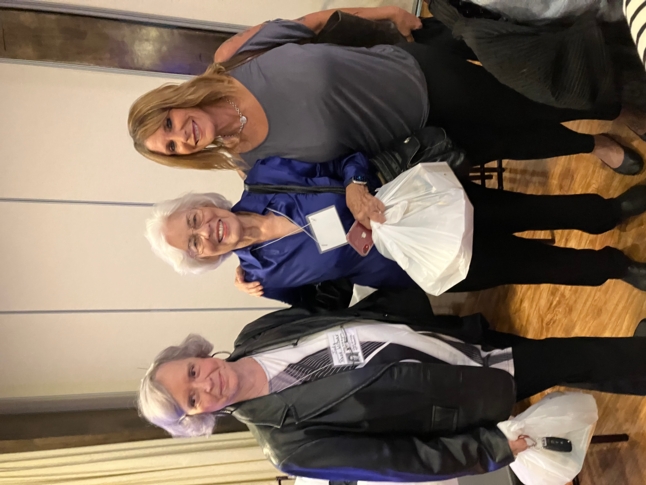 Judy Reed Wilburn and Ellen Bourland Grounds with her daughter had a wonderful time! So good to be with each other!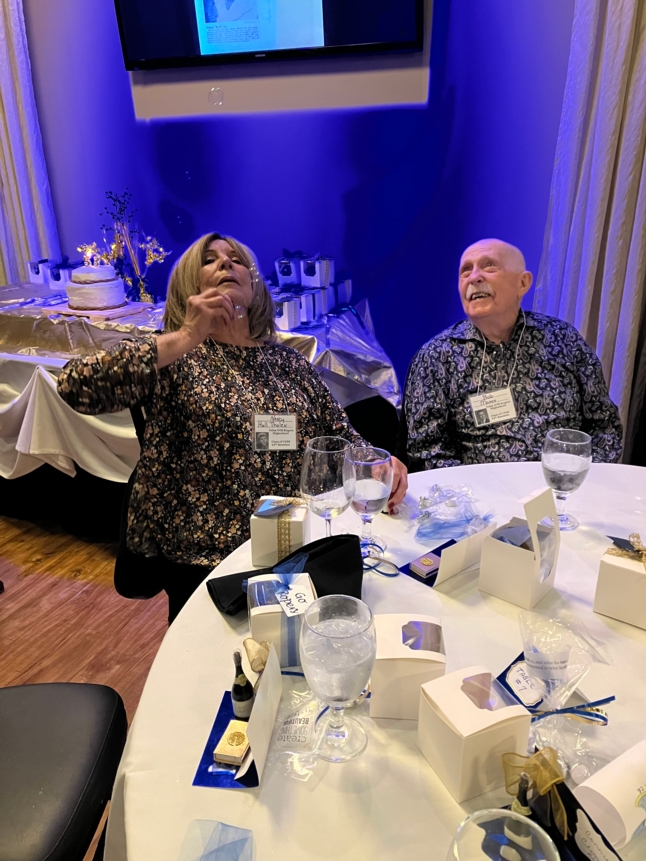 Remember the song" "I'm forever blowing bubbles....pretty bubbles in the air"...well there were many Classmates on Saturday evening doing just that. Check out Nancy Hull Tholen's entertaining Bobbie Moses!(These two were grade school buddies of mine too) It was fun I am sure...The bubbles were located in the small bottles located on place cards! (see below)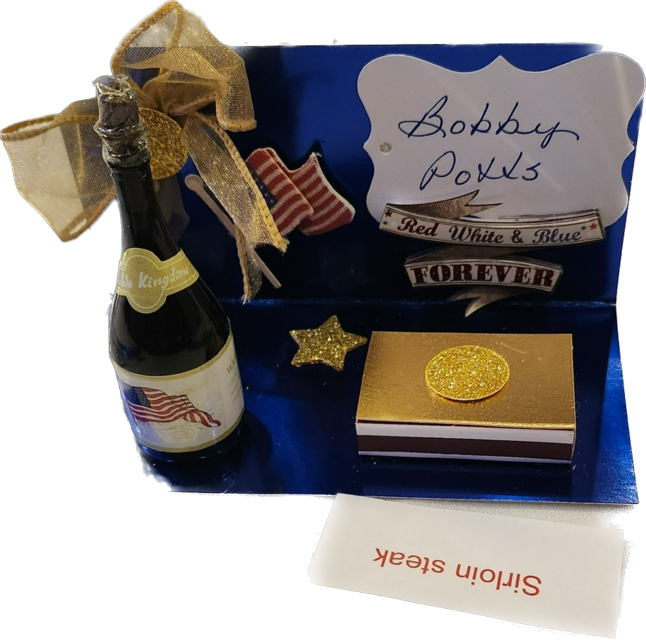 Bobbie Jon sat here with his place card decorated with special patriotic stickers thanking him for his service! All of the Veterans of our class were also honored in this special way. Never to forget you! dlg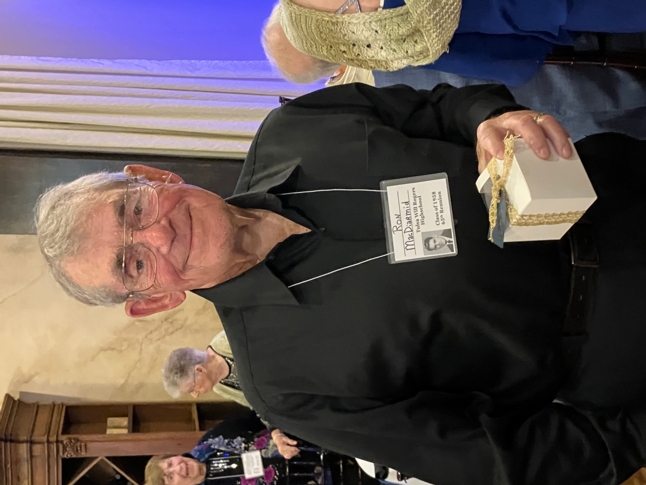 All were very happy to see Ronnie Mac come back to join all. He is still the strong survivor that he has always been. It was wonderful to visit with him after so many years. He sent Nancy Henry a wonderful message that I would like to share with all.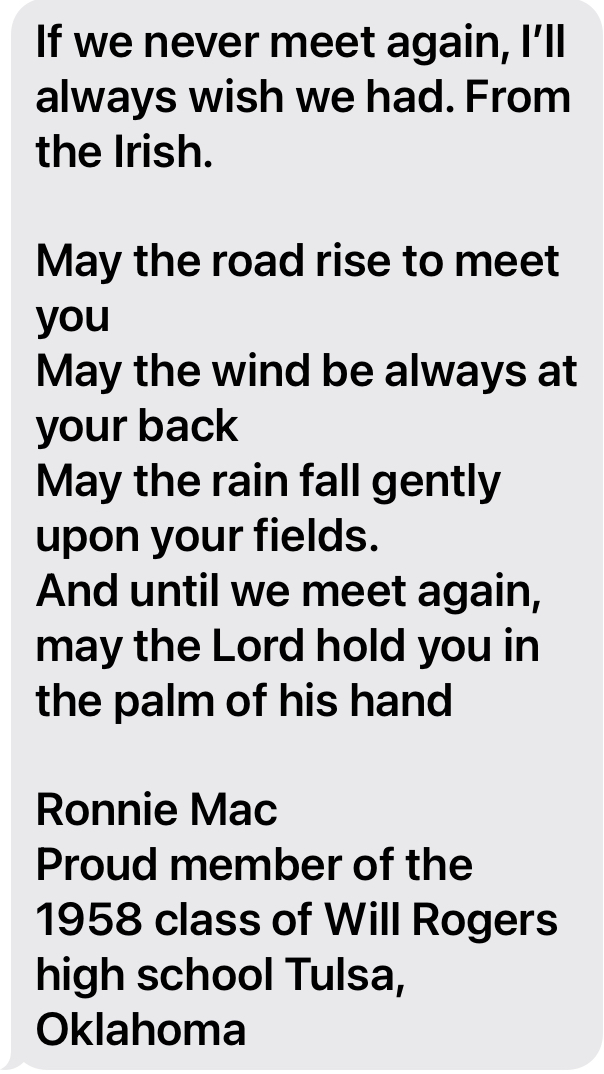 I read it with true tears in my eyes. dlg
THE END
Classmates of l958
P.S. Please send in any corrections or additions to any of the info on this particular page. Send to Donna Polite Gantt....okiebug1939@gmail.com . Thank you.