GRAPPLER CHAMPS!
SOME OF THE WRESTLERS CAME BACK TO REUNION: BOBBY POTTS, DAVID JAMES, PERRY KEMP! GREAT TO SEE YOU GUYS!
ROGER'S WRESTLING STATE CHAMPIONS 1957-1958
GREAT GOING, GRAPPLERS!!!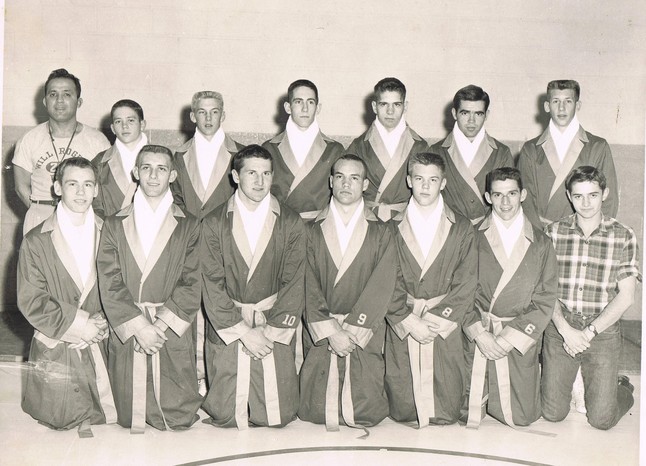 NAMES OF OUR STATE CHAMPIONS:
FIRST ROW: L TO RT. Benny Brown, Freddie Stephens, Dave Adams, Charles Mahan, A. C. Saint, Darrell Eckles (ROGERS ONLY STATE CHAMPION), Glenn Moreland Mgr.
SECOND ROW: L TO RT. Coach Morey Villareal, Jerry Tanner, Phil Ellis, Jerry Moore, Perry Kemp, Bobby Potts, David James.
About 4 weeks ago David James called me (Bobbie) and asked if I had ever viewed a banner of the 57-58 State Champions of Wrestling and I told him" nope". He said he had it in his office and told me the story of how he got it (kinda long for this page).
I went by and picked it up. The two pics of the banner below is the after and before picture of it. Ron Trekell's wife, Rhonda, patched it up and I took it by Hobby Lobby to have it framed.
A lot of the team is no longer with us but the ones that are left will present it to Will Rogers High School at half time game on October, 20. They will be playing Poteau and the game will be played at Booker T Washington Field.
Everyone is welcome to come to the game and watch as we give a little something back to Will Rogers High School from the years gone by. Thanks to David James for rediscovering it.
On Thursday night 10/20/2016 three of the original Wrestlers from the 1957-1958 State Champions returned the banner that had been recondensed to the High School. From left to right were Freddie Stephens, Bobbie Potts, and Perry Kemp. Those accepting the banner from the school were Kendra Bramlett Assistant Principle, Valerie Farrow Assistant Principal and Krystal Markwardt the Athletic Director.
The banner will be in one of the show cases in the hallway of the school.